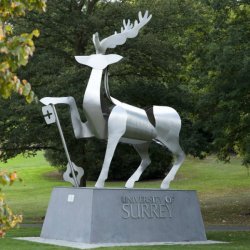 Imran Beeharry
"The course is very flexible, which meant I could tailor my studies in order to suit my career needs."
What attracted you to choose the University of Surrey and to study your course here?
When I was in the final year of my undergraduate degree, I wanted to further my knowledge in finance. Surrey was a natural choice because it was a high-ranking university in the UK with excellent career prospects. High student satisfaction scores signalled to me that the University of Surrey enables students to gain an education that is of a very high standard. I have also heard from friends – who were there before me – how diverse Surrey was in terms of its culture, as students come from all over the world. Many of whom I still keep in touch with today!
What is your strongest memory of your time at Surrey – what do you picture first when you think of being here?
Naturally, on my first day in a new place, I was nervous but curious as to who I will meet and who will be on my course. My strongest memory would be my first day on the course. It was an introductory lecture in a module which is compulsory for a number of courses in the Surrey Business School. I met lots of students there on different courses and different backgrounds. After that day, the year at Surrey was eventful, socially and academically. The students I met on that day are still very close friends of mine and I would not have succeeded if it were not for their support during the year.
What were the best things about your course?
The course offers great flexibility in its content. You can explore wider topics within finance to give yourself a well-rounded educational experience. You can choose modules and a dissertation topic that are of interest to you. This is extremely important if you want to enter the financial services industry as people will expect you to know about certain aspects of it, even if it's not in your line of work. It offers great flexibility if you want to enter the buy side or sell side of finance.
The course ensures students are learning from the best resources out there; academic journals, textbooks and published academics themselves. However, this course doesn't only focus on theories, it also has a focus on the practical aspects on finance too. For example, the University of Surrey provided me with an opportunity to participate in the Bloomberg Investments Challenge 2017- a national competition; we were taught how to use statistical packages such as STATA and SPSS; and the dissertation project enabled me to choose a research topic of interest to me, which, in turn, developed my knowledge within finance.
What do you do now and what do you find the most enjoyable about your line of work? Have there been any highlights?
I am a Fixed Income Performance Analyst within the Risk Management Department at M&G Investments. The role analyses the performance of fixed income funds and attempts to explain the reasons as to why a fund has achieved the return it has over a given period. In other words, the return is explained by different risk factors. Examples of risk factors are credit spreads, shifts in the yield curve and currency exposure. This is known as attribution. Use of models are necessary when carrying out attribution analysis.
What I find most enjoyable about my line of work is that it is a constantly changing environment. Markets are always moving; economic and political news is constantly coming out which causes the markets to react. This has a direct impact on fixed income funds, testing my knowledge that I have learnt at the University of Surrey.
How did your time at Surrey help you choose what career to go into?
The course is very flexible, which meant I could tailor my studies in order to suit my career needs. I selected the relevant modules and a dissertation topic that could provide me with a strong theoretical background for my chosen career. The course prepares you well for a career in various roles within the financial services industry. Specifically, I chose to pursue a career in asset management. This was not only determined by my studies, but also by the networking events, organised through the University and the Economics and Finance Society.
What are your top tips for students aspiring to work in your profession?
My top tips would be:
Try and learn what you're studying. Do not try and revise just to pass an exam. Instead, try and internalise the theories you have been taught because this will help you answer tough technical questions during interviews.
Be prepared to hit the ground running, as you have to be a quick learner. Deadlines are extremely tight in such a fast-paced environment so you have to pick up tasks quickly in order to meet them.
Never be afraid to ask for help. Teammates are always willing to help you when you are stuck. This will also help you to learn quickly and develop within a professional environment.
Do you have any other comments you'd like to offer about your time at Surrey or life after university?
I had such a good year at Surrey. The lecturers were great, I was able to take advantage of opportunities such as the Bloomberg Investments Challenge 2017, meet students from all over the world, experience their cultures and begin my career on the day of my dissertation deadline. It was a great choice and I strongly recommend students to study here.
 
Explore our accounting and finance courses, including our MSc Corporate Finance.