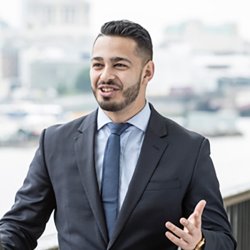 Ivan Jesus
'I have found that being fully immersed in a productive work environment, with set targets allowed me to understand what type of worker I am.'
Course
Accounting and Finance
"Throughout my placement year at IBM as a Financial Analyst, I was continuously challenged with more and more demanding tasks, developing my technical competency, experience, efficiency and know-how. I am confident I will be an asset to any firm I secure a graduate job with.
I have found that being fully immersed in a productive work environment, with set targets allowed me to understand what type of worker I am. I have further developed and understood my skills in addition to my academic abilities.
I am very dedicated to personal development and strongly believe an entrepreneurial attitude is important to do well in life. I feel the university provides a great platform for this with its many training-like events and workshops, as well as having a determined careers team providing advice and guidance.
As I am about to go into my final year and I'm looking forward to my graduation day and that feeling of achievement, alongside the amazing friends I have made here."
Discover more about our accounting and finance programmes, including our BSc Accounting and Finance.