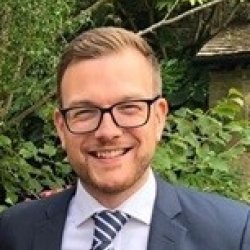 James Lynch
James Lynch, who studied for a BSc (Hons) Computing and Information Technology at Surrey, is Customer Experience Manager for India at ExxonMobil, based in Bengaluru. We caught up with him to find out about his day-to-day role and how studying at Surrey helped prepare him for working for a global corporate company.
Why did you choose to study your course at Surrey?
I felt like the course offered a great balance between the technical fundamentals and real-world application. Surrey has always been renowned for producing well rounded graduates who transition well into blue-chip graduate schemes.
Which aspects of the course did you enjoy the most?
The Professional Training placement year, which I spent at Eli Lilly, was invaluable. It helped me to understand how an industrial company applies technology to enable its business strategies. I came back for my final year enlightened!  
What were the best things about life in general at Surrey?
I enjoyed the diversity of cultures due to the broad range of international students. It provided a good foundation for working for a global corporate. I also valued the campus environment and world-class facilities (both academic and sporting).
What have you done since graduating from Surrey?
I briefly worked at Thomson Reuters before joining ExxonMobil in 2008. Since then, I have been fortunate enough to rotate through eight different positions of increasing responsibility, typically within IT Operations. This has meant that I've travelled to more than 30 countries and experienced expatriate assignments in Budapest and Bengaluru.
What's your current role?
I am the Customer Experience Manager for India at ExxonMobil. This encompasses overseeing IT Operations and providing the local IT interface to our ExxonMobil businesses in a rapidly growing strategic location for the corporation.
What does a typical day look like?
No day is ever the same in IT Operations! The team could be dealing with a total telecoms outage (which is common in India!) or I could be working with the senior India business leadership to discuss how we apply technology to help support their business.
I also have the opportunity to sit on the local IT Leadership Team, tasked with growing the India IT organisation from 250 to 500+ within the next year, to complement the 6.5k we have in other locations!
How do you think studying for your degree helped you get where you are today?
It provided me with the practical skills required to take the first step on the corporate ladder and once inside, a cultural awareness invaluable in a global organisation.
"I will always look back fondly on the enriching experience I had studying at the University of Surrey, it gave me all the building blocks I required to start my career in IT."
Discover our courses in computer science, including our BSc (Hons) Computing and Information Technology.