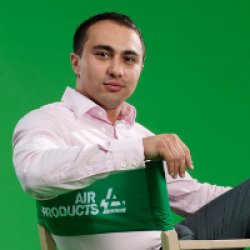 Jamshid Salimov
"The chemical engineering course at Surrey offers several unique features; both hands-on operations and design projects, flexibility with placement years, multi-disciplinary experience and great lecturers."
What attracted you to choose the University of Surrey and to study your course here?
I was choosing a university based on three main factors: subject ranking, location and graduate prospects. Surrey has been in top five in all categories with a solid track record. Once I got an offer from the University, I knew it would be my firm choice as it has an amazing campus, world class professors and excellent job prospects.
What is your strongest memory of your time at Surrey – what do you picture first when you think of being here?
I remember the day I arrived. It was a late flight, I had lots of luggage and it was a new place so I was extremely worried. However, on arrival to campus, someone came up to me and offered help in finding my accommodation and carrying my suitcases. It was not just a one-off, people kept on making random acts of kindness throughout my whole time at University. It was wonderful experience.
What were the best things about your course?
The chemical engineering course at Surrey offers several unique features; both hands-on operations and design projects, flexibility with placement years, multi-disciplinary experience and great lecturers. You get a chance to see a variety of engineering and gain a good understanding of its many facets. Hence, when you graduate, you have strong technical skills with a breadth of understanding of where opportunities for the future may lie.
If you completed a Professional Training placement, can you tell us how you think this impacted upon your ability to get a graduate job?
During my third year, I was offered a Professional Training placement with a global engineering and manufacturing company to work at their research and development facilities on testing new technology. By the end of the placement, I was offered a graduate position by the same company and interview invitations by several other companies.
"Placement opportunities are great steps in opening many doors for young engineers, as they give an understanding of industry and showcase one's abilities."
What did you find most useful about your Professional Training placement?
During a Professional Training placement, you get fully hands-on with real deliverables, with support from experienced engineers. However, the most important experience is the understanding of equipment and safety, because only in industry can you get an appreciation of the scale and complexity.
What do you do now and what do you find most enjoyable about your line of work?
At the moment, I have just completed an engineering development scheme with Air Products and Chemicals Inc. I had a chance to work in the operations department - supporting plants all around Europe; in business development for the energy department; as part of the engineering design team - designing multi-billion pound industrial gases facilities; and finally, the project execution team. All of these experiences as well as my Surrey education, have given me the opportunity to gain chartership status at a very early stage of my career. I love the fact that I get to have a variety of work, constantly face challenges and solve problems on a day-to-day basis.
How did you decide what career to go into? How did your time at Surrey help you to decide?
One of the reasons I decided to study chemical engineering was because I wanted to make a difference in the world. Engineering is at the heart of fighting poverty, tackling climate change and improving wellbeing of society, hence, I wanted to get the necessary skills to be able to contribute. Also, I chose chemical engineering as a degree, because I did not know what to do in future and this degree offered flexibility. It is a unique feature of chemical engineering, your options don't narrow down, they just keep on expanding. I love what I do, enjoy meeting people and get charmed by every challenge along the way. Chemical engineering is a great career as it is challenging, gives opportunities to travel and attracts fascinating people.
What are your top tips for students aspiring to work in your profession?
My top tips for future chemical engineers are to keep on being inquisitive, learn a foreign language or two and get ready for great careers. The industry is still at the early stages of its development, as more countries develop sustainably there will be more and more unique and interesting experiences for you.
What aspects of being connected with the alumni network are most important or of most interest to you and why?
I have had the pleasure of meeting many alumni with amazing stories and advice. They have been helping me to shape and grow my career. My mentor is a Surrey alumnus, and our relationship was kick started with memories of professors and design projects. When I was looking for a placement opportunity, at least five of ten interviewers were Surrey alumni, so the interview never felt daunting. These are the three main elements of the Surrey alumni network I find useful at this stage of my career. I know, as my career progresses, there will be plenty more opportunities to be a proud alumnus from the University of Surrey.
Discover our programmes in Chemical and Process Engineering, including our BEng/MEng Chemical Engineering.