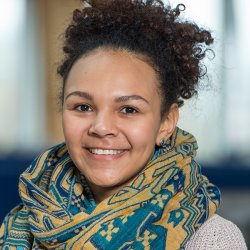 Jayne Katete
"The great thing about my programme it that it is always interesting – each module is so different that studying never becomes a bore."
Course
Criminology and Sociology
"I decided to study Criminology and Sociology because I was studying both Law and Sociology at A Level and enjoyed both. I saw the programme as a way of combining these while gaining a deeper understanding of the theory.
I have really loved studying Criminology and Sociology during my time at Surrey because it probes you to ask questions you may not have thought of previously, and think in ways that you wouldn't normally. The great thing about the programme it that its always interesting – each module is so different that studying never becomes a bore.
I chose to study at the University of Surrey because the Sociology department seemed to be the best out of all of the universities I visited on Open Days, combined with the fact that Sociology ranked third in the league tables at the time. The location was also very attractive, given that it was so close to Guildford town centre and train links.
Before making my final decision about which university I wanted to study at, it was very important for me to be able to work whilst I study – having the town so close made that easy, as well as the frequent buses running from each campus.
Having Surrey Sports Park so close was also very nice and did encourage me to try out new classes and attend the gym. The close knit community first year accommodation offers is very nice and welcoming and is a great way of making new friends during the first few weeks of uni.
Since starting at Surrey I have gained a greater sense of independence and other highly valuable life skills.
The lecturers on my programme are very friendly are usually easy to get in contact with outside of lectures. In lectures they are always encouraging you to explore different rationales and are very wiling to help with any problems you may have.
I undertook a Professional Training placement with Rhenus Logistics. My role was an Operations Co-ordinator, overseeing the distribution of data storage equipment, while also having the opportunity to explore other sectors within the company. 
I would definitely recommend the Professional Training placement programme to other students who are not sure whether or not to go for it. It offers actual working experience which can help decide, not only what career you would like to enter into, but what aspects are more suited to you personally. My greatest academic achievement of 2015 was completing my Professional Training placement."
Discover more about our criminology and sociology programmes, including our BSc Criminology and Sociology.