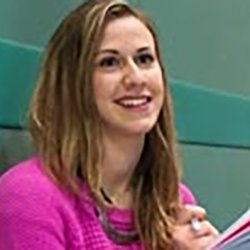 Jennifer Jacobsen
"The teaching and learning culture at Surrey has given me a deeper interest in my field of study."
Course
Business and Retail Management
"I came to the University of Surrey from Helsinki in Finland, after completing the International Baccalaureate.
Out of all the universities which offered me places, Surrey was the closest to my extended family and to airports for flying home - it's in a great location, close to London and has good transport links.
It also guarantees university accommodation for all first year students and at a much better price than some other universities.
I have enjoyed my first year enormously, meeting new people and forming lasting friendships with my housemates. The experience of coming here has changed me on a personal level – for a start, it's made me much more self-aware, as I've had to make decisions and manage my finances and everyday life independently, as well as take part in new activities. It has also made me much more confident in stepping out of my comfort zone - before coming to Surrey, this had been a challenge for me.  
The teaching and learning culture at Surrey has also given me a deeper interest in my field of study - and my course here has definitely made me far more anayltical of the current environment and my surroundings. Meeting and working with people from different backgrounds, cultures and other university courses has increased my knowledge and fuelled my curiosity of the wider world too.
Surrey encourages students to be the best they can be, both academically and socially. It's a transformative experience - the University offers countless opportunities to help you develop yourself professionally (careers service, talks and fairs, company visits, placements etc) and will actively support you every step of the way. I'm looking forward to the next three years of my journey."
Discover more about our business and management programmes, including our BSc Business and Retail Management.