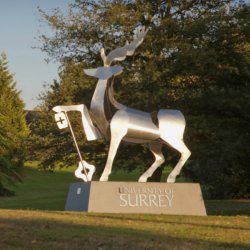 John Harpley
John Harpley took a split placement; studying first at the Universidad Pontificia Comillas in Madrid as part of an Erasmus study exchange and then spending the second semester on a work placement in Madrid.
"The Placement Year was a big part of my decision to study International Politics and Spanish at Surrey, because of the value it would add to my CV and because of the personal value I knew would be added by the experience. Relatively few politics departments offer a placement option and it can give the student a greater chance of employability as a graduate.
You can either spend a full year on a study or work placement, or undertake a split placement, spending half your time working and half of it on a study exchange.
I chose the latter, and went to Madrid, studying at the Universidad Pontificia Comillas. I had to study and work in a Spanish-speaking country, which was very new to me.
In both cases, I was been exposed to quite different working environments and learned to manage different relations both in the workplace with colleagues and in a study enviroment with different students.
Living abroad for a year gave me the opportunity to experience a different and new culture, improve my language skills, experience a different academic process, and brought me out of my comfort zone.
I have benefited from a different cultural and professional experience, as well as the chance to explore a new academic environment. I am far more independent as a result of this experience, with increased professional and academic skills, but I've also had the opportunity to grow personally.
I have a different perception of the world and of other cultures and I have learned to interact and mediate with people from various different backgrounds and nationalities. It was a lot of fun; aside from the academic benefits, I got to experience a different country and to travel all around it to get a richer taste of its culture."
Find out more about our politics programmes.