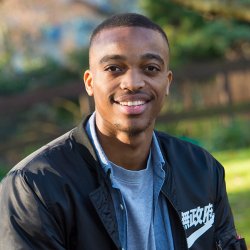 Kahema Mungili
"I would urge future students to consider a placement, because the experience built my character in many ways that theoretical knowledge would not have and the skills I have gained will be crucial to any career that I now take."
Course
Law with International Relations
"I chose to come to Surrey for a few particular reasons. Firstly, the opportunity to study law with a selection of politics modules that I found interesting was very appealing to me, given that I have an interest in both these fields. Secondly, I visited Surrey on an Open Day and I found the campus to be very welcoming; it immediately felt like a second home. Finally, the option of a Professional Training placement was particularly appealing and I also found Surrey's standing in the league tables to be quite impressive.
The Open Day was probably the significant event that influenced my decision to attend Surrey. The students working there were all very welcoming and made sure to make you feel at home by giving you an abundance of first-hand information.
I chose to study my programme due to the interest I have for both law and politics, therefore I was looking to study a programme which incorporated both subjects. My programme is perfect as I have had the opportunity to study law with an additional politics module focusing on international relations. I have always had an interest in law because it asks challenging and stimulating questions to do with the world that we live in. The opportunity to shape different actors such as businesses and society is one of the reasons I've always wanted to work in this field.
I enjoy the nature of tutorials and the stimulating debates that arise as different individuals in the class give their interpretations based on the reading that we have all been set. It's very interesting to hear the different perspectives that people have of various issues which consequently informs how you approach questions.
The academic staff consistently encourage us to visit them during their office hours which is very helpful, especially when it comes to understanding how to approach coursework questions. The facilities have a dedicated Law Library which is a less busy alternative to the main Library.
I lived on Stag Hill in a house with six others, living on campus was one of the best experiences I've had at Surrey and housemates I met in university accommodation are now some of my closest friends to this day. Being on Stag Hill was also highly convenient if you needed to go to town, the gym or Tesco as it was no more than a 20-minute walk.
I am part of the Model United Nations Society which I began alongside my flatmate in second year. Being involved in the society allowed me to gain skills that I never thought I would be capable of attaining by being part of a society, furthermore it allowed me to create some amazing memories and experiences.
The best thing about life in Surrey is the sense of community and togetherness that is enshrined throughout the campus, the campus has a number of social areas and you can always be certain of meeting someone who you share a common friend with. The best thing about the campus is also the lake and surrounding area which offers some breath-taking views all year round. Guildford is also in a great location for transport links and it's never difficult to travel to London or further South.
I undertook a Professional Training placement, working at Warner Goodman LLP in Portsmouth as a Paralegal in the Commercial Property team. I also had the opportunity to work with the Residential Conveyancing team and the Family department.
The best thing about placement was that I wasn't limited to purely administrative tasks such as filing, drafting contracts/leases and calculating various financial data. I also had the opportunity to have a meeting with an existing client by myself in order to obtain all the information that he was seeking to provide us with. Some of the highlights included assisting on the acquisition of large scale apartments in Liverpool city centre such as Mann Island, as well as various other real estate around the UK. Another highlight was spending a team building weekend alongside my colleagues in Dartmouth, which proved to be one of the most fun experiences I have ever had. I also enjoyed having the opportunity to train an intern undertaking her work placement, as this was a level of responsibility I did not anticipate. 
I think the Professional Training year was one of the best experiences of my life. I have become more self-assured and confident in my abilities as a result of it. I would urge future students to consider a placement, because the experience built my character in many ways that theoretical knowledge would not have and the skills I have gained will be crucial to any career that I now take. It presents the opportunity to gain an understanding of that particular sector and get first-hand experience early in your career which is vital in a competitive world. The experience you gain from placement makes you stand out amongst all the other candidates competing in the job market, albeit giving you a significant edge.
My biggest achievement has been attending a Model UN Conference at Cambridge University as a delegate discussing Tackling Tax evasion and Tackling Crime in Sports. I feel that this is something I would never have seen myself doing when I first arrived to university. However, due to the confidence that I have consequently attained as a result of being a student at Surrey and taking part in various activities, as well as placement year, I can now say that this is one of my achievements.
Since starting university, I now have more faith in myself and my abilities. When I look back on my first year I still find it remarkable how much I have changed as a person, prior to university I would never have seen myself campaigning as part of a society or being a delegate at Model UN Conferences or a Student ambassador. University has shaped who I've become as a person, as a result of the friends I have made and the opportunities available at Surrey that I have thrown myself into in order to strengthen and build my character.
As a result of placement I now feel more certain of which career path I would like to take and will definitely apply for jobs with a view of taking postgraduate study in the future."
Discover more about our law programmes, including our LLB Law with International Relations.