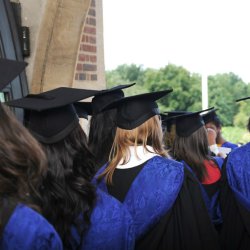 Karolina Cisek-Ndlovu
"In lecturers, I mostly admired their practical approach to teaching and the valuable insights into the profession they shared with us."
What attracted you to choose Surrey and to study MA Translation here?
When choosing the University I considered available courses, their reviews as well as the cost of the course and the location of the University. I was wavering between Imperial College and Surrey, but the more I looked into Surrey's offer, the more I became convinced that with its focus and location, Surrey will be the right place for me to gain practical and theoretical background needed in the professional world.
What is your strongest memory of your time at Surrey – what do you picture first when you think of being here?
The strongest memory from Surrey I hold, is that of people I met there - fellow students, lecturers and staff alike. Everyone always seemed positive, open to others and happy to help. In lecturers, I mostly admired their practical approach to teaching and the valuable insights into the profession they shared with us. On the other hand, as students, we were also encouraged to work together and learn from each other. It was a great place to start life-long friendships in.
What is the one thing you would say about Surrey (or your course) to someone who doesn't know anything about it?
The education offered by Surrey University is without a doubt of very high quality. As with anything else in life, a lot of course depends on the individual's motivation and focus on what they want to achieve. All the same Surrey gives many opportunities for professional development and personal growth making it easy for students to stay motivated and interested in the course.
How did you change as a person during your time as a Surrey postgraduate, and how has your time here influenced your life and career since then?
The beauty of the course was that it not only taught us how to translate, but also made us aware of how the whole translation industry works, thus making us professionally aware. The insight into the industry made me aware that there are other career options than freelance translation and helped me realise and specify my long term career goals. It was during the course that I made a decision about the career I wanted and have been successfully pursuing it since.
What has been your career highlight to date?
I think I can consider myself quite lucky. I was able to start a career in the profession quite soon after graduation, and on top of that, in a role and environment that turned out to be perfectly suited for my skills and personality. Every day gives me an opportunity to learn something new and keeps me stimulated. I suppose the greatest highlight of my career is being able to participate in a lot of high profile projects, being recognised in the industry as a professional and at the same time find my work extremely satisfying and enjoyable.
What are your top tips for students aspiring to work in your profession?
Translation is not an easy market, especially for those who are making a break. All the same, with enough focus, determination and dedication you can achieve what you set out for. If you want to be a freelancer, be a specialist; if aspiring to become a PM, multitasking developed to a very high level is an absolute must. Most importantly remember that the two things you will be mostly judged on is the quality of your work and your professionalism.