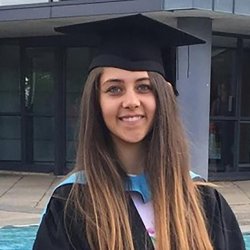 Katie Ley
"The research I'm conducting could assist and improve procedures for many patients; it's a good feeling to be researching something that could make a difference!"
"I did my undergraduate degree at Surrey and absolutely love it here, so while I did look at other PhDs, my heart was always set on continuing at the University for my PhD studies.
I have always been interested in medical physics, and my PhD focuses on the luminescent properties of silica beads for use in dosimetry (measuring radiation doses during cancer treatment among other scenarios). Six months into my research I have already submitted my work to two conferences and also helped develop a product for Truelnvivo, a start-up company founded by Dr Shakar Jafari, an alumna of Surrey.
This has involved me in product planning and design meetings which have given me an interesting insight into what's needed to get a product off the ground.
The research I'm conducting could assist and improve procedures for many patients; it's a good feeling to be researching something that could make a difference! I'd like to bring it to the point where it can be helpful in real procedures. The novel aspect of using silica beads as dosimeters is that they are very small, meaning they can measure doses to specific areas to higher special resolution than traditional dosimeters. They also have the potential to be used to measure doses inside the body.
I get on well with the staff and students in the Department of Physics and really like the whole environment of the University.
Of course you have deadlines to meet like you would anywhere else but here, work is well balanced with extracurricular activities. There are lots of opportunities to do interesting things outside of your research to develop your career – or just for your personal wellbeing. I like getting involved in outreach events and demonstrations for undergraduates. I also enjoy training in my chosen sport – triathlon – with my friends and competing for the University.
I haven't yet made my mind up about what I will do after my PhD. I'm really enjoying my research at the moment so I can see myself wanting to continue researching, but I've also attended several career talks held at the University and they have appealed to me too! Thankfully I still have a while to decide: it looks as if, with my PhD and the connections I am making, there will be several ways to go."
Discover more about our physics programmes, including our PhD Physics programmes.