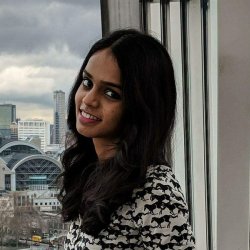 Keeshini Manivannan
"The Surrey 'family' is a happy one, with a friendly vibe for students of all races."
Course
Computer Science BSc (Hons)
I studied on Surrey's Computer Science BSc course before moving to the USA, where I currently work as a Senior Software Engineer at Visa Inc in Texas. This is a very interesting role which involves me in working on designs and prototypes of new applications, improving code quality (focusing on back-end logic), and prototyping new mechanisms for deploying builds.
I chose Surrey for my undergraduate degree because of the well-established computer science course, which had extensive content. I was also impressed with Surrey's Professional Training placement year, which enables students to experience the real life corporate set-up very early in their career.
The group projects which formed part of my course at Surrey proved to be a great way to learn about team-building. I reap the rewards every day be being able to work effectively as part of a team which grows and evolves together.
"I was also an active member of various groups and coding programs, which allowed me to build a strong professional network and hone my skills, enabling me to translate my expertise into real world solutions."
Another thing I liked about Surrey was its well-planned campus infrastructure with everything in one place. The University also has excellent accommodation with outstanding amenities.
The Surrey 'family' is a happy one, with a friendly vibe for students of all races. As an undergraduate student you are at that point in your life where you transition into a responsible adult. I found that Surrey gave me a good platform to develop strong interpersonal skills. With its global exposure and opportunities to work with people from different cultures, it gave me a better understanding of how you have to be courteous and humble to excel in a team.
 
To new students I'd say: have an open mind set, immerse yourself in the cutting-edge course work, and take every opportunity that comes your way. One of the experiences I cherish was helping out at Open Days: this gave me the opportunity to be the 'face' of the University and to instil confidence in potential applicants that Surrey has everything you need to build a successful future in computer science.
Discover our courses in computer science, including our BSc Computer Science programme.