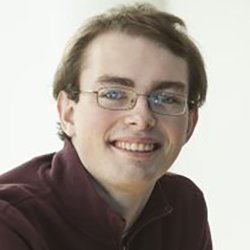 Laurence Stant
"My time at National Instruments has been an invaluable aid to my career prospects."
Course
Physics with Nuclear Astrophysics
Placement company
National Instruments (NI)
"A fascination with how things work led me to study for a degree in Physics, choosing Surrey because of its reputation as a leader for employability.
Now studying for a PhD in microwave devices at Surrey, I spent my Professional Training year with National Instruments UK Ltd – the global producer of automated test equipment and virtual instrumentation software.
As an Applications Engineer, I was given a high level of responsibility, providing technical support to scientists and engineers using National Instruments' software and hardware products.
The training, experience and skills I gained during my year at National Instruments will help me throughout my career. I was given some amazing opportunities – such as being invited to make a presentation at a national conference in Westminster, teaching 21 postgraduates in Leeds and helping deliver new software to a prestigious supercar manufacturer.
I was also part of the winning team in National Instruments' annual competition for interns and new graduates to design and build a marketing demo using National Instruments products, aimed at enabling engineers to grow their software development and team leadership skills. My team's project was a system that tested four Raspberry Pi single-board computers simultaneously, and we also created a Youtube video to advertise the system to our customers.
During my placement, I was one of only 80 people in the UK to gain certification as a Certified LabVIEW Developer (CLD).
My time at National Instruments was an invaluable aid to my career prospects. Having the job security provided by my placement experience made the rest of my time at university much more enjoyable and far less stressful.
My undergraduate experience as a whole was very positive. My lecturers were really knowledgeable and the facilities well-suited to my course: the ATI and Ion Beam Centre in particular. The subject matter on my BSc covered a wide range of topics – even specialist courses like mine give you a good grounding in all areas, allowing you to pick more focused modules later down the line.
While I am currently studying at postgraduate level, I would eventually love to travel the world designing and building control systems for particle accelerators and other facilities. It might sound an obscure job, but these machines have a habit of being placed in some really stunning parts of the world!"
Discover more about our physics programmes, including our BSc Physics with Nuclear Astrophysics.