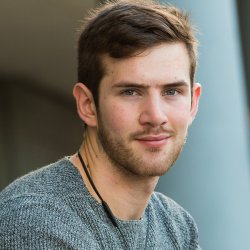 Leo Blanchard
"Doing a year on placement has given me so much perspective about the world of work, the different fields that exist and most importantly, my personal strengths and weaknesses."
Course
English Literature BA (Hons)
Placement company
Microsoft UK
"There were quite a few different factors that ultimately affected my decision to come to the University of Surrey. One of the main reasons was definitely the fact that the English Literature course offers the option to do a Professional Training placement, which is somewhat rare for this degree. Post-graduate employability was quite a big factor for me and so knowing I'd have some professional experience before I graduated was important.
Another major factor was the campus, which I really liked the look of on the open day I attended, as there seemed to be a lot of green spaces and well-maintained facilities.
In addition to this, the content of the course was also appealing to me, as it had a particularly contemporary focus to it.
Attending the open day was important to me as I wanted the chance to see the campus for myself and also have a chance to hear from some of the lecturers on the course about what a degree at Surrey would involve. I remember being very interested in the information they gave us about the Professional Training placement too. 
I chose to study my programme as I have a strong interest in the different factors that affect the way today's society functions and how they relate to the personal experiences of individuals. I knew this matched well with the contemporary focus of Surrey's English Literature programme. I think I'm particularly passionate about my subject simply because of how diverse it can be, relating to other subjects such as philosophy, history and politics. This means that it never gets boring, and there's always a new way of thinking to learn more about. Also, while there are focuses to every module and assignment, you also get a fairly large amount of freedom in the texts and critical perspectives you discuss, which means you can find an angle that interests you the most.
The independent research element of my degree is one of the most interesting aspects of my programme, as it's taught me how to uncover sources using modern technology and analyse a range of different critical approaches and opinions of the same text. Also, I enjoy constructing arguments in my essays using evidence from primary and secondary texts. Over the course of my degree, I've been able to practice and refine my essay-writing abilities to the point where I'm familiar and confident with my own style of writing.
From day one, the academic staff on my programme have been very good at explaining complex ideas and texts. They have frequent office hours which make it easy to see them at a convenient time and discuss topics related to the modules they teach. The seminars they conduct have been particularly engaging as they provide the opportunity to have an open discussion of the themes in the texts we study.
I lived in university accommodation during my first year at Surrey, which was a really positive experience. I lived at Manor Park, which was a nice introduction to Surrey as it meant I lived in essentially a small village of first year students, this gave it a real sense of community. My room was clean, well-furnished and well-maintained, plus it was nice to have my own shower (all the rooms in Manor Park have ensuites). I'm still close friends with many of my flatmates too!
One of the best things about Surrey is how safe it is, I've never felt personally in danger during my time here, even when walking home later at night. It also has good transport links to other towns and cities, as it only takes around half an hour to get to Waterloo, which I've found very convenient. Also, the town centre is nice too, with lots of little shops and really nice places to eat and drink (most of which are on Deliveroo).
I was a contributor to The Stag student magazine in first year and then I was the Literature Editor in second year. This was a really valuable experience for me as it gave me the opportunity to practice my writing skills and have my original pieces published on quite a large scale. This experience was useful when finding placements, as it gave me a number of skills that I likely wouldn't have gained otherwise.
My Professional Training placement
I spent my Professional Training placement at Microsoft UK in Reading, working in corporate communications.
I found out about my placement through an event the Microsoft recruitment team held specifically for University of Surrey students. They spent the evening talking to us about the opportunities at Microsoft UK and what makes their placement programme unique.
The majority of the work on placement was centred around Microsoft UK's internal communications. My main responsibility in this area was producing the weekly newsletter emailed to every Microsoft employee in the country, this involved sourcing articles every week on a range of different topics, editing them, formatting the newsletter and then keeping track of the success of the newsletter through the use of analytics tools. In addition to this, I also helped managed the diverse array of other internal communications channels, such as digital signage, our employee social network and on-site branding spaces. I also assisted in the planning and execution of our quarterly employee 'town halls'. I'd say that my main highlight of the year was being involved in the implementation of a system of data collection and analysis for Microsoft UK's internal communications.
I'd absolutely recommend taking a Professional Training placement, so much so that I find it hard to imagine not having done one. Doing a year on placement has given me so much perspective about the world of work, the different fields that exist and most importantly, my personal strengths and weaknesses.
"I consider my greatest achievement of 2016 to be the skills that I developed whilst on placement, particularly the resilience that it taught me."
One of the great things about going on placement is the fact that it gives you the opportunity to develop important skills whilst giving you a sense of what kind of role and industry is most suited to you. In addition to this, doing a placement has also given me a great deal more confidence about finding a role after I graduate, particularly one that I enjoy.
Whilst I don't plan on going into the same role as I did while on placement, I like to think that overcoming the difficulties that I experienced
has made me a stronger person and certainly better equipped to go back into the professional world after I graduate.
The university environment has given me an important opportunity to gain some perspective about myself, simply through being surrounded by so many different people of different personalities. As a result, I feel a lot more confident in myself as a person and more willing to accept others for who they are. Also, I'm much more focused in my work, mainly because I'm interested in what I'm studying, which I couldn't necessarily say for my A levels.
I am currently applying for graduate roles and internships in PR and advertising, particularly those with an analytical slant."
Discover more about our English literature and creative writing courses, including our BA (Hons) English Literature.