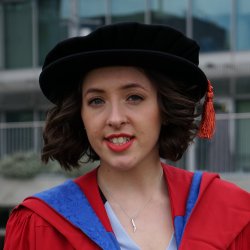 Lorraine Ezra
Our PhD students go on to a wide range of exciting roles both in industry and research environments. We caught up with Lorraine Ezra, who studied for a PhD in natural products chemistry, and is now a senior research scientist at agrochemical company Syngenta.
Why did you decide to do a PhD at Surrey?
I studied for my MChem Chemistry at Surrey and the research project I did in the final year really inspired me: I found it so interesting to puzzle out what was happening. I knew I didn't always want to stay in academia but realised that a PhD would be a great way of furthering my career in science and getting me into the area of industry I wanted to work in. It has helped me go in at a higher level and allowed me to do really interesting research right from the start.
I decided to stay at Surrey for my PhD because my supervisor, Professor Dulcie Mulholland, told me about a great opportunity for research in natural products which was the area I wanted to pursue. Also I loved the University campus and had lots of friends here.
What's your PhD all about?
My research was about isolating and identifying compounds found in natural products, such as lichen. These compounds were then tested for antiviral or antibacterial properties. I also investigated more environmentally-friendly ways of extracting compounds from plants: traditional solvents used are toxic to us and the environment but it's possible to use alternatives made from things like lactic acid and glucose which occur naturally in the body.
What are you up to now, and do your PhD skills help you in your daily work?
I work for Syngenta, an international agrochemical company, as a senior research scientist in the preparative and isolation chemistry team. It's a fantastic place to work.
I do a mix of analytical chemistry and preparative chemistry, and the skills I gained during my PhD are definitely helping me. The natural products process requires you to isolate active ingredients which is part of my role now, so it's very relevant.
What were the best things about Surrey?
If I was going to take one thing away it would be the friends that I've made here, particularly my fellow PhD students. People sometimes think PhDs are easy but they are not! There will always be times when you're struggling, and having a community of friends doing the same thing was hugely helpful. As much as I enjoyed lots of other things about Surrey, the friends I made were the best thing.
Discover our courses in chemistry including our Chemistry PhD.