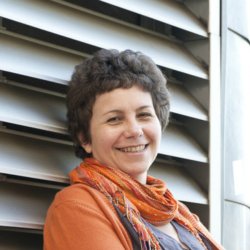 Louise Squire
"Having the chance to contribute to a developing area of scholarship is very exciting."
Course
English Literature
"A PhD is a rigorous endeavour; it's important to stay on track. I have a great space to work and I have regular monthly supervision sessions with my PhD supervisor, who is one of the few people whose criticism I value as much as her encouragement.
My PhD examines a strand of contemporary environmental crisis fiction and is based in the field of environmental literary criticism. This is a relatively young research area within the UK, and I find having the chance to contribute to a developing area of scholarship very exciting.
I'm interested in how fictions of the present engage with the challenges of today's world. A number of today's established writers are turning to 'environmental crisis' novels.
I'm hoping to go on and secure a position in an academic department, and I've been making some steps towards that goal as I work through the PhD. As well as doing some teaching I've had an article published on a chapter of my PhD and have presented at several conferences.
I've also organised a symposium and am about to start editing a collection of papers to be published out of it. Getting involved creates opportunities to network, and networking in turn creates more opportunities."
Discover more about our English Literature and Creative Writing programmes, including our PhD English Literature.