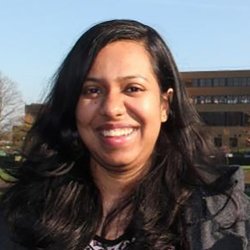 Madhuvanthi Nirmalnath
"I think that some people find the idea of doing a dissertation intimidating but I've found that at Surrey there is a lot of support with this."
Course
Information Systems
"As a student from India, I considered universities in India, the US and UK when thinking about a Masters course and finally chose the University of Surrey for a number of reasons. For one thing, studying in the US (where a Masters is a two year course) was much more expensive than in the UK.
I decided to come to Surrey partly because of its high ranking in the league tables and its location in Guildford, with easy access to London. In terms of the MSc Information Systems course, I liked the fact that it integrates both practical and theoretical study which prepares you for industry – unlike universities in India, which focus on the theory.
As a keen programmer I have particularly enjoyed the programming and security modules and look forward to the Database Systems and Cloud Computing modules. As part of my research before coming here I also looked at the profiles of academics in the Department of Computer Science, including their research interests, and I was impressed with the people who would be teaching me.
Having got an offer to study here, I applied for a GREAT Surrey scholarship, which is open to graduates from India, and was successful.
Since joining the University I've found that my first impressions were right. The teaching staff are easily approachable and treat each student as an individual. You can always go to them with questions about the topic you're studying – or even topics that fall outside your modules. It's also really helpful that the labs and library are open 24/7, particularly before an assessment or exam.
I think that some people find the idea of doing a dissertation intimidating but I've found that at Surrey there is a lot of support with this. I chose multi-factor authentications as my subject – something that is very relevant to industry. This involves making web transactions more secure by using a number of authentication methods based on what we know (such as a security question), what we have (an ID card) and what we are (a fingerprint).
My Surrey experience has not been all about work. From reading the Student Ambassadors' blogs before I came, I knew the University had a strong international community and lots of clubs and societies. Since coming here I've taken advantage of the free GGA (Global Graduate Award) language classes in French, and also joined the Computer Society, Harry Potter Society and the Indian Community Society, among others.
I live in university accommodation, which has been a great experience: in my corridor there are students from Canada, USA, China and South Korea, and it's really nice to talk about our respective countries and our plans for the future. I feel very at home here and, as an International Student Ambassador, I am now one of the people who writes the blogs which help future students decide whether to study at Surrey.
As I come to the end of my studies I'm planning to work for a couple of years, probably in some form of programming, and might consider doing a PhD once I have some industrial experience. I think everyone needs to do a Masters if they really want to understand their subject in depth and at Surrey you get the perfect blend of practice and theory."
Discover our programmes in Computer Science.