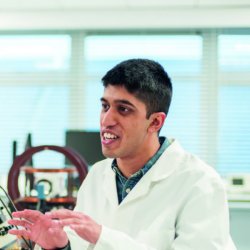 Mahfuj Ali
"I chose Physics because I wanted to gain a fundamental understanding of our world. Studying at Surrey also enabled me to take part in the Professional Training year, which I spent at Petroleum Geo-Services (PGS)."
Course
Physics
Placement company
Petroleum Geo-Services (PGS)
"PGS produce a 3D sub-surface volume map of the Earth, used by petroleum companies to determine the location of global hydrocarbon reservoirs.
During my placement, working within their data processing team, I cleaned seismic data by removing noise and interference. Daily activities also included team briefings, client interactions and using PGS's software suite to work on the data in various forms.
Throughout my placement I was really well supported, in the form of an introductory training programme and ongoing mentoring from my project leaders and managers.
I got to interact with a diverse range of people to use industry-specific software on commercial data which held real monetary value.
Surrey has definitely encouraged me to take new opportunities that come my way. During my degree, I've completed two summer schools, in South Korea and Crete, as well as a placement in an industry that I had no idea existed before I started there. As a result of my placement at PGS, I've decided I want to pursue a career as a geophysicist in the petroleum industry. To anyone considering a Professional Training year, I'd say definitely do it – placements go a long way in helping you decide your future career path."
Discover more about our physics programmes, including our BSc Physics.