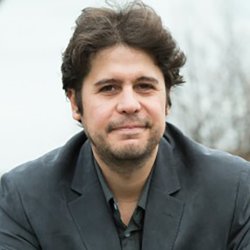 Marcio De Lazzari
"The Surrey Sports Park and the transport links to London are very appealing parts of life at Surrey."
"I'm motivated by innovative things and I have a kind of attraction to the entrepreneurial universe.
This has come from a mix of my background in mechanical and industrial engineering and from my business experience.
After having completed two very different master degrees, I thought that would be the time to focus my attention on business models innovation for sustainability, which integrates three fields: entrepreneurship, innovation and sustainability.
I chose the University of Surrey for two main reasons: because of the Centre for Environmental Strategy (CES) and because I wanted to have a place where my partner and I could both study, work and enjoy, which means experiencing life at a British university and interacting with the British culture and lifestyle.
The easy access to airports and London are also appealing, as well as the Manor Park accommodationfor couples and the Surrey Sports Park, both located nearby the University's main campus.
It has been such an amazing, insightful and unique experience.
My three PhD supervisors are helpful and supportive as they push me towards the completion of PhD activities, and the Library has very good resources. The PGR Seminars were very helpful and excellent opportunities to share my research and network. I've also been involved with my faculty (FEPS) contributing as tutor in my area of expertise.
I volunteered for the Switch Off and Green Impact programmes, both campaigns working towards better behaviours in terms of waste disposal and energy consumption in University departments and student's accommodation. In my Department last year, I volunteered to help at an international conference, where 500 delegates from across the world came to Surrey. 
I think that my major PhD achievement so far was to have contact with the start-ups that took part in my PhD study. I'm very grateful to all them. I learned a lot from qualitative studies prospective, what was really new for me and I've never imagined that it would require a lot of effort from myself to understand the methods.
I can say that some of the highlights also were winning the Enterprise Academy student competition offered by RES (Research and Enterprise Support) in 2013, where I worked with undergraduate and master students from different courses developing a business idea and making a video, and also winning the Student Enterprise Video Challenge competition in 2014 - the theme was 'Why would you choose to study at University of Surrey?' and we did it with much enthusiasm!
I'm also proud to have be one of the few PhD students from UK to be part of the "Journey 6" of the Climate-KIC Europe in 2015, where I could see in practice a lot of examples about the business models, innovation, and sustainability related to my PhD, and to have a business idea project awarded by the Wates Family Enterprise Trust and RES in last February.
I've tried to get the most from what the University offers, including the town and the surrounding area. A lot of things have happened in the last three years and I consider this time to have been undoubtably a life-changing experience." 
Explore our postgraduate research and business and management programmes.