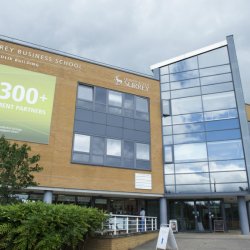 Mark Lowman
Mark Lowman, sales manager at Princess Cruises, shares his experiences studying International Hospitality Management at Surrey.
Course
International Hospitality Management
Mark Lowman, sales manager at Princess Cruises, shares his experiences studying BSc International Hospitality Management at Surrey.
What attracted you to choose the University of Surrey and to study your course here?
Initially, I was attracted to the University of Surrey because of its incredible reputation within my field of study. The University had achieved the number one position across the industry for Hospitality and Tourism for a number of years with international accreditation and world-class quality teaching.
Upon visiting Surrey, it was evident how passionate everyone was about the University, from lecturers to students. The feel of the campus made everything that little bit more special, set next to Guildford Cathedral, close to town and with a beautiful lake in the centre. It provided a home away from home feel in a beautiful location - the novelty never wore off!
What is your strongest memory of your time at Surrey?
My strongest memories of the University would be the friends that I've made. A lot of people worry about leaving close groups of friends at school and moving somewhere completely different but it didn't matter at all. Regardless of your background, where you were from, who you were, everyone became a close-knit community on campus. The social life was also incredible with the University providing not only a quality learning environment, but a fun and enjoyable personal life with clubs, societies and nightlife.
A particular highlight for me was being Chairman of the Food and Wine Society in its 25th anniversary year, hosting a high-level event at The Savoy in front of some of the leading names in the hospitality industries.
What were the best things about your course?
The opportunities available, particularly in practical learning, which not all universities offer. On my course, we were able to apply theory into real life through running the Lakeside Restaurant one day a week, alternating between front-of-house responsibilities through to kitchen and chef training. I also managed the Winter Wonderland Ball for one module with a team of ten ran which over 500 students attended – these experiences are invaluable for the future!
The opportunity to take a Professional Training placement is something I would recommend to every student. The University is very well connected and proactive in helping us secure a year in industry, which means you can really start your career with the best CV possible.
The facilities provided in the School of Hospitality and Tourism Management, and across the campus, were also world-class with Surrey being ranked exceptionally for research facilities.
Can you tell us how your Professional Training placement impacted upon your ability to get a graduate job?
It not only gave me a chance to experience what life would be like after University, but gave me a great deal of motivation, experience and learning for my final year of University which ultimately made the difference between a 2:1 and a First.
A great impression made on a Professional Training placement could mean a foot in the door upon graduation to return to the company in a brilliant graduate role! Every employer I have since interviewed with has made reference to my professional training and University life. It's definitely an experience which WILL make you stand out.
What did you find most useful about your Professional Training placement?
The contacts I was able to build through my Professional Training placement have been incredibly supportive in my career, supplying references for future job opportunities. There has been something learned  from my Professional Training that I have used in every job since graduating and enabled me to gain a solid foundation of management at a young age.
What do you do now and what do you find most enjoyable about your line of work?
After graduating, I worked in a 5* hotel in Surrey within sales and events. Although I enjoyed this area immensely, I soon discovered my strengths were within a sales environment and, with travel being a huge passion of mine, I decided to take the small leap across industries to further my sales skill set and joined one of the largest cruise lines in the world, Princess Cruises, in a junior sales and events role.
Within the first few months of the job, I was running a trade event on board our brand new ship, Royal Princess, which was named by HRH the Duchess of Cambridge in Southampton. I was also part of the filming crew in the Caribbean for an ITV documentary on the cruise industry which featured the Royal Princess – I would have never been able to have these experiences had I not had the phenomenal development opportunities at the University and on my placement year.
I am now sales manager at Princess Cruises, responsible for multi-million pound travel and tour operating businesses that sell cruises in the UK. I absolutely love how dynamic and exciting this industry is and, having been a cruise holidaymaker since I was 12, I have always been an advocate for this industry. I particularly enjoy meeting and dealing with a huge array of different people across very interesting and individual businesses, from corporate global giants to smaller independent agents with huge future potential.
How did you decide what career to go into? How did your time at Surrey help you to decide?
I attended pretty much every career day going to ensure I had all of the tools and research to discover what opportunities were out there after University.
I worked at every opportunity in different fields, from restaurant work to event planning to management training on my placement year, to experience different sides of the hospitality industry. I always saw myself becoming a general manager of a 5* London hotel but, actually after all of these experiences, I decided that my skills were much better suited within sales – particularly the cruise industry where I really have the personal experiences and passion! Sometimes you have to try out an area of your industry to know that it is or isn't for you.
What are your top tips for students aspiring to work in your profession?
Be passionate about the industry, have experience of travelling, whether on holidays, through a gap year or through reading travel news and press. Attend as many industry events as you can from trade shows to exhibitions – check out graduate schemes or even just write a covering letter and CV to companies you would love to work for, showcasing your drive, your passion, and your experiences from University. You can easily learn the specifics of a job but it's the personality traits and skills set you need to show off.
Ensure you network as much as you can – most individuals in the industry are all very well-connected so you soon become part of the family! It's one of the most rewarding industries to work in, selling aspirational products and services every day – very much a work hard, play hard attitude.
There are so many avenues to choose from whether that be sales, marketing, PR, operations, airlines, cruises, resorts...A passion for the brand or type of business is key for your own job satisfaction.
What aspects of being connected with the alumni network are most important or of most interest to you and why?
It provides a great community of people to turn to for support on your career and future life. The opportunity to select a mentor – someone you aspire to be or someone who has had similar or very different experiences from you. It really helps to keep you focused on your career path and provides an unbiased voice.
Personally, I love the opportunity to speak with undergraduates and help them with their future career path. It's not about telling them what to do or not to do but an opportunity for them to consider ways in which they can further develop their skill set or how they can decide on the right path for themselves. 
Learn more about the Surrey student experience and our programmes in the field of Hospitality, Events, Tourism and Transport.