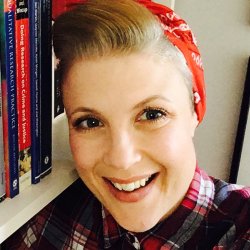 Melissa Pepper
"My supervisors offer advice and support on practical elements of my research. They have taken the time to understand what I want from my PhD, both during my studies and after, and as such can tailor their support and advice accordingly."
"I fell in love with sociology during my A Levels in the late 1990s. The study of deviance - the complex set of factors underpinning crime, offending, victimisation, and punishment – was of particular interest to me, and my 17-year-old self was pretty blown away to discover degree programmes entirely devoted to criminology and criminal justice.
There began the start of a lifelong relationship which saw me through a BSc in criminology and criminal justice, a career in government social research - first at the Home Office and currently at the Mayor of London's Office for Policing and Crime - a masters degree in social research methods, and finally after much professional soul searching and courage plucking, the start of my part-time PhD.
I knew that Surrey had a good reputation for social sciences and research methods.
I had attended a day course in the Department of Sociology many years ago when I worked at the Home Office, and was impressed with the quality of teaching, and knowledge and experience of the trainers.
The location of the University was also important to me. The campus is an easy journey from central London where I work. However, the main reason for applying to Surrey was my supervisor, Professor Karen Bullock. When I started to read around my subject area and hone ideas for my thesis on the use of volunteers in policing, Karen's name appeared frequently in my reading lists.
From our first meeting I knew I was going to get on well with my supervisors.
As well as being experts in their fields, both Karen and my secondary supervisor Dr Dan McCarthy, are very much rooted in reality. They are passionate about their subject and require high quality work from me; however, also understand that I am juggling this alongside a demanding paid role, family, home and attempts to have a bit of a social life. As a part-time student this is important. Their expectations (and those of myself) are stretching, but we negotiate these together and set achievable timescales that meet the demands of my studies.
My supervisors offer advice and support on practical elements of my research, and never tire of my mildly panicked ongoing discussions around theoretical frameworks. They are prompt and clear communicators, both face-to-face and via email, a quality that cannot be underestimated, particularly when you are fitting studies into an already busy schedule. Karen and Dan also encourage me to think about post-PhD life and my plans in the not-too-distant future. They have taken the time to understand what I want from my PhD, both during my studies and after, and as such can tailor their support and advice accordingly. I hope they will both continue to be sources of advice and support for me beyond graduation and on my early steps towards an academic career.
Even though I'm three (part-time) years in, the novelty of being a PhD student at Surrey still hasn't worn off. I still get quite excited when I come in to the department for a day in my 'other office' and to meet with my supervisors.
I really enjoy the vibe and energy of campus and being amongst a range of other 'learners'. This makes me look forward to a future career in academia even more!
Everybody in the Department – students, support staff, and academics – have been friendly and welcoming from the very start. On our first day the department laid on a welcome lunch, gave us the key to our office (never ever thought I would be so excited about a key and seeing my name amongst a list of students on an office door!), and introduced us to the next few very exciting years of our lives.
I try to attend the regular PhD workshops organised by our PGR director and other events throughout the year whenever I can. These are always a great opportunity to catch up with fellow PhD-ers and keep track of how individual projects are developing.
I'm a big fan of the Researcher Development Programme (RDP) workshops. I have attended a number of sessions covering subjects such as literature reviews, critical writing, study design, poster presentations, data analysis, and the confirmation process. Not only have these offered practical skills for my PhD research, they've also helped me to shift my thinking back to academia after a number of years in the workplace. They are a fantastic opportunity to meet other students across different disciplines. It's a great reminder that there is a whole world beyond your field of study!
PhD research at Surrey covers the length and breadth of academia from creative writing and performing arts, to engineering, the natural sciences, and everything in between. 
There have been opportunities for collaboration and joint working both within and beyond Surrey since my first year of study. I have presented at a practitioner workshop with my supervisor, delivered a paper with a fellow PhD-er on the opportunities and challenges of being a part time student, and jointly arranged a student-led symposium entitled 'How I Learned to Stop Worrying and Start Loving My Research'.
I've also been part of joint conference presentations and writing collaborations with academics from another university. Research on my thesis topic is currently limited, and my supervisors being well connected within the small (but growing) network of scholars has facilitated a number of valuable introductions. My supervisors fully support me in this external work and encourage me to pursue other projects alongside my PhD research. Learning to juggle, prioritise and re-prioritise seems to be a constant feature of an academic career so I hope this will set me in good stead for the future!
I would like to pursue a career in academia. This was my goal when I applied for my PhD and remains so three years later. For me the PhD is an academic 'apprenticeship' and (I hope!) my pathway to a career as a lecturer. I enjoy teaching and research and am enthusiastic about my subject area. I think it's important for research to offer practical application and I hope that my years working in the public sector will be a valuable addition to my academic career. I'm excited about the future. First things first though…got to get this thesis written!"
Explore more about our sociology programmes, including our PhD in Sociology.