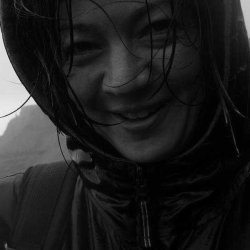 Michelle Man
"Since starting my PhD I have developed my confidence within an academic environment, as well as acquired new skills."
"I have worked as a freelance dance artist for nearly 30 years, performing, choreographing, teaching and running my own small-scale company in Spain. Research has always been an intrinsic part of my creative processes, so when I returned to the UK I was curious and excited about placing my practice and experience within an academic environment. After completing an MA in Making Performance I realised that doing a PhD would allow me to continue developing my practice through new challenging contexts, whilst gaining new skills.
I am currently completing a practice research PhD in Dance at Guildford School of Acting (GSA). For me, it is essential the quality of discussion that can evolve with my supervisors, Dr Rachel Hann and Dr Adam Alston, who are leading voices in the fields of practice research and performance. They are the key reason I chose Surrey. Also, before starting my application for PhD study, I delivered a paper at The Theatre in the Dark Symposium held at Surrey.
The scholarly thinking and environment that I experienced as a recently graduated MA student was both welcoming and challenging, and made me realise that Surrey was the right place for me. 
I work full-time as a lecturer in dance, at Edge Hill University, so I am studying part-time. The staff are genuinely supportive and are understanding of the study/work balance. I am kept well-informed of events, and our research specialist librarians set up a Facebook page for 'part-timers' and those studying from a distance, so we have our own virtual forum.
My main supervisor gives honest and detailed feedback on my written work and has maintained a positive and encouraging posture throughout the year. She has excellent attention-to-detail, asks pertinent and challenging questions, whilst always reminding me of 'the bigger picture' – how my research outputs may eventually impact the field.
The Library at Surrey houses the National Resource Centre for Dance, which contains a unique archive of materials. Over the years donations have been made by numerous companies and archive collectors, which have allowed this valuable resource to expand. The collection has become a springboard for projects led by international dance scholars and practitioners. For my own research on dance I am able to access lighting plans and memorabilia that offer important clues to the importance of theatre lighting in dance. In an age where we have so much information at our digitally trained fingertips, I find it incredibly exciting to be able to leaf through original archive materials. I have also had a taster of how some of the theatre spaces operate at GSA. Their up-to-date facilities are managed by technical staff who understand the demands of research and professional performance.
At Surrey I have been able to assist a fellow research student with the montage of his performance in the dark work. For my own project, I am currently working with the American lighting designer Kelli Zezulka, who is about to complete her PhD at Leeds. I am also collaborating with graduate composer JJ Lyons from Edge Hill University to develop a soundscape based on the 'sound of light'. Professors in the Department of Health, where I work, have shown an interest in my work, so this may lead to another collaborative strand of my project.
Since starting my PhD I have developed my confidence within an academic environment, as well as acquired new skills.
I have become a Fellow of the Higher Education, and my case studies on research-embedded teaching have been made available to colleagues in my Department as examples of excellent practice and I was recently co-convenor for the Leonora Carrington Centenary Symposium, 2017. I am also very proud to have a published review in Routledge'sTheatre and Performance Design , especially as my ninety-five year-old grandmother is able to pick up the printed copy and read my review within the context of the other contributions in the volume.
In the future I see myself continuing in my current job as Lecturer in Dance, but with new responsibilities, as well as continuing to choreograph for circus, something that I have been doing over the past fifteen years. I will also be looking for new challenges and making sure my research can become part of other inter-disciplinary research projects."
Learn more about our PhD in Dance and explore our student profiles.