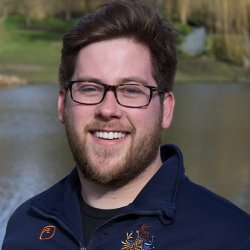 Nicholas Bates
Nicholas Bates, PhD Student, University of Surrey
Course
Medical Physics
Placement company
National Co-ordinating Centre for the Physics of Mammography
What attracted you to choose the University of Surrey and to study your course here?
Having previously studied here for my BSc, the opportunity to further my knowledge with the MSc programme was ideal, especially when combined with the generosity of a scholarship from the Braithwaite Foundation. The course here also focuses on practical clinical knowledge in the second semester, delivered by experts in the field which is especially of interest to me.
What is your strongest memory of your time at Surrey – what do you picture first when you think of being here?
I've been an active member of multiple societies and sports teams, so my strongest memory is largely playing American Football at Surrey Sports Park.
What were the best things about your course?
The opportunities to visit medical physics departments at both the RSCH and Portsmouth Hospital to gain interactive experience of working in an NHS department as a medical physicist.
What do you do now and what do you find the most enjoyable about your line of work? Have there been any highlights?
I am now continuing at Surrey as a PhD student, working in Nuclear Medicine research in the hope of becoming a Research Physicist in a department once I graduate.
I most enjoy the mix of experimental research and the opportunity to assist with work in the Nuclear Medicine department.
How did your time at Surrey help you choose what career to go into? Did a Professional Training placement help you decide?
During my BSc, I undertook a Professional Training placement working at the National Co-ordinating Centre for the Physics of Mammography. My time there, combined with my experience on the MSc course, has solidified my decision to work in the NHS once I graduate.
What are your top tips for students aspiring to work in your profession?
When deciding whether to do a PhD the main question you must ask yourself is how much you want to do it. It requires a great deal of self-motivation and if you start to question yourself it is exceptionally hard to work through it.
Finally, do you have any other comments you'd like to offer about your time at Surrey or life after university?
I will always remember my time here, by the end of my PhD I'll have spent the better half of a decade here and I wouldn't change it for anything as I've met some life-long friends here.
Discover more about our physics degrees, our pioneering Professional Training placement scheme and student life at Surrey.