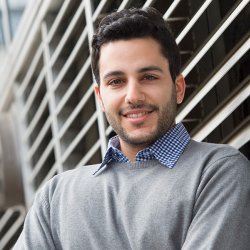 Nicodemos Stylianides
"Tackling such a challenging programme has shown me that, when I truly apply myself, anything is possible. More over, participating in various social events, presentations and group projects has really built my confidence."
Course
Accounting and Finance
"The business world has always fascinated me. Wanting to become a part of this world, I was confident that Surrey's Accounting and Finance programme would be my passport. In a world where employment opportunities are limited and unemployment is constantly increasing, this programme has high employability in various industries. It also acts as a springboard for more specialised further study leading to professional qualifications.
The University's great reputation was the main reason for my undergraduate choice. It was not only the exceptional rankings in the league tables that convinced me but also the many friends I have who had great experiences there. Also the fact that the Accounting and Finance programme was offering many exemptions for professional qualifications like ACCA really made it a no-brainer, Surrey was the place for me. 
Like many other students, I was not familiar with the application process, however the University was very helpful and friendly and made the process a lot easier. Upon arriving at the University every procedure regarding the registration process and moving in was meticulously organised and easy to follow. The "Freshers Angels" made my moving in experience one to remember and, most importantly, stress-free and fun!
I have had to tackle a variety of individual and teamwork tasks throughout my studies. It's great to receive education on accountancy, business and finance as well as being trained on how to apply my knowledge to real life situations. The programme gave me the opportunity to study modules such as Business Law and Human Resource Management, which will not only help me with accounting and finance roles but also with a variety of other jobs. Furthermore besides the expected quantitative basis that this course provides, my analytical and evaluation skills were also enhanced to a great extent.
My greatest achievement of 2015 was undoubtedly attaining a first in my second year. This is because I felt that all my hard work and time devoted to my studies had paid off. Determination, organisation and efficient time management are the most important elements in success and my tutors at Surrey ensured that I developed all these qualities in order to reach my potential.
My lecturers and tutors have shown great passion for their field.  They were always happy to answer any questions I had and also provided individual guidance where necessary. I feel that they have given me both the practical and academic foundations to prepare me for the business world. 
As a student from Cyprus I am part of the Hellenic/Cypriot society, which organises numerous events throughout the year gathering all Greeks and Cypriots together. This both gave me a taste of home and enabled me to make more friends. I am also really enjoying using the modern facilities at Surrey Sports Park, including the Olympic size pool, which is great for relaxing after a long day of classes. Since Guildford is only a small town it's very easy to get around by bike and explore its wonderful history. During the day, Guildford Castle offers a beautiful 360º panoramic view of Guildford. Then at night there are plenty of pubs and bars to have a great night out in. Also London is handily only 30 minutes away via the train."
Discover more about our accounting and finance programmes, including our BSc Accounting and Finance.