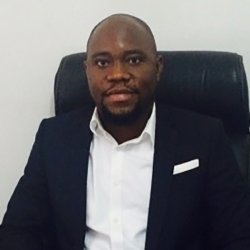 Obiefule Iroabueke
"Diligence, hard work, reliability and attention to detail, as well as being innovative and a team player, are skills that makes every graduate an asset to any employer."
"My name is Mr. Obiefule Iroabueke and I am currently an Assistant General Manager (Business Development and Investment) at the Nigerian Airspace Management Agency (NAMA). I hold a masters degree (MSc) in International Financial Management from the University of Surrey, as well as a bachelor's degree in Accounting along with several other professional affiliations and qualifications.
While doing my undergraduate degree I discovered that accounting involves, to a large extent, having knowledge of business and management. As a result, I decided to further my studies in finance and management, hence my master's degree (MSc) course in International Financial Management at the University of Surrey.
I chose to apply to the University of Surrey because of the excellent manner in which the University blended and arranged its modules for the master's degree programme, touching every key area to enable its students to build skills and excel in careers associated with business and financial management. The combinations of courses were also aimed at preparing and equipping students for the challenges ahead after university. Also, Surrey is a renowned university, being one of the top universities in the United Kingdom.
On graduating from the University of Surrey, I gained employment with the Royal Borough of Kensington and Chelsea TMO as an Electronic Document Supervisor after which I secured appointment with HSBC Bank Plc UK where, within a short spell of time, I rose to the position of a Portfolio Manager as a result of my diligence and productivity.  I left HSBC Bank Plc, UK to return Nigeria to add value and apply my skills in the development of the country.
On return to Nigeria, I was employed as Special Assistant (Financial Strategy) to the Hon. Minister of Aviation where I worked in several committees and initiated various developmental projects within the Nigerian Aviation Industry.
One notable achievement to be highlighted in terms of my job roles both past and present, would be the success I achieved while working as a Special Assistant to the Honourable Minister of Aviation, where I was responsible for the Airport Cargo Terminal Project Initiative (Perishable Cargo Initiative) which focused on rural development especially in the area of empowering women and young people through agricultural (perishable) export. The initiative received wide recognition and was eventually endorsed by the then President. Mr Goodluck Ebele Jonathan GCON.
I was responsible for research, idea development, policy documents, business modelling, financial consultation and process refinement. The Initiative was a huge success because the Federal Ministry of Aviation was able to secure an international loan in order to construct the required perishable cargo terminals.
All of these exciting experiences and job roles came after my degree at the University of Surrey. This goes to show you that at Surrey you'll get exposed to many educational and career building experiences that make you an all-round professional.
But yet, Surrey is not just about classwork.  The University boasts one of the most exciting student lifestyles. From the fact that its 10 minutes' walk from Guildford town centre, to its wide range of on-campus restaurants and bars as well as its acclaimed student nights at Rubix."
Discover more about our business and management programmes, including our MSc International Financial Management.