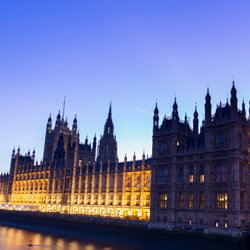 Oliver Deed
Oliver Deed completed a Professional Training placement with former Defence Secretary, Bob Ainsworth MP, in his office in the Houses of Parliament.
Course
Politics
Placement company
Defence Secretary, Houses of Parliament
"Students at Surrey have access to a number of different opportunities while undertaking their degree. Academically, you have the opportunity to engage with interesting theoretical and empirical literature and flourish in the field of your choice. Outside of studies, there is the opportunity to exercise the independence you've never had before in many ways. The professional placement year is an added bonus; an opportunity I advise all students take advantage of.
As part of my programme, I undertook a placement year working for former Defence Secretary, Bob Ainsworth MP, in his Parliamentary office. 
The placement year gave me the opportunity to apply the knowledge I had gained in the first two years of my degree programme in a practical context.
For instance, the grounding in international relations that I had gained in the two years prior had direct application to the papers I produced on the situation in Afghanistan for the MP. The analytical skills you learn serve you well in any position that requires you to process, interpret and present lots of information in a concise and articulate manner.
The experience also gave me the chance put the research skills I acquired on my first two years into practice in an office environment. When looking for empirical data, the modules related to research techniques came in very useful, giving me the tools I needed to explore for the right data.
But perhaps most important of all, the placement has helped shape me as a student. I have come back with a renewed energy, a clear focus and a vision for my future plans. I have produced the best academic work of my life and received marks that are, on average, 8-10% higher than my second year.
I am working now to graduate with a degree that will be a classification higher than I expected when I left for Parliament in 2010.
I can't emphasise enough to others how useful the placement year has been. It was one of the reasons that attracted me to the Politics programme at Surrey in the first place and I know that this was a good decision. If you are considering a placement and you have an opportunity to work in a professional environment, take it."
Find out more about our politics programmes, including our BSc Politics.