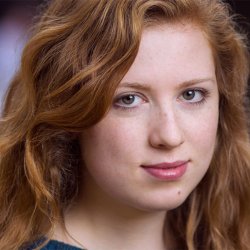 Persia Babayan-Taylor
"Since joining GSA I have a more confident and positive outlook on my future prospects as a performer."
"I chose to come to Guildford School of Acting as it is one of the only schools that provide an 'actor musician' course and is one of the best drama schools in the country.
My main passion was acting but music had always played a huge part in my life, I didn't want a career as a solo musician but loved the idea of integrating my musical skills into performance and theatre. That was a very exciting prospect. The audition process was also one of the most beneficial ones I did. The panel had time for me and really wanted to listen and see what I was capable of. I'd encourage applicants to make sure they are fully prepared. Everyone feels nervous at the audition so you want to be incredibly comfortable with all your material to make the experience as enjoyable as possible! I enjoy our showings and when we get to perform to the whole school and see their reaction. Hearing music always puts a smile on people's faces. We have beautiful studios which are brilliant spaces to work in. Our tutors are incredibly professional and knowledgeable and every session is beneficial to our progression as performers.
In first year I lived in Millennium House on the University campus. It was lovely to connect with non-GSA students and have time to unwind in a comfortable flat! All accommodation is in close proximity to the library and shops which is great.
I will always remember the guidance given by the tutors. I feel like they will always be there for support should we need it.
Since joining GSA I have a more confident and positive outlook on my future prospects as a performer.
I now look at these possibilities less nervously and with more excitement about what is to come.
In terms of next steps I would like to have a career spanning theatre, television and film. In regard to theatre I am very interested in performing fully integrated actor-musician shows incorporating instruments, song, dance and acting."
Discover more about our performing arts programmes, including our BA Actor Musician.