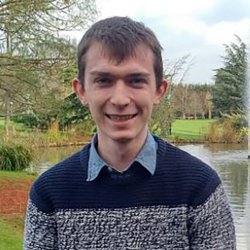 Phillip Munn
"I learned a lot on placement. I experienced life in a corporate environment, built a knowledge of mobile networks and technologies, and found out how important it is to work as a team to ensure targets and deadlines are met."
Course
Computing and Information Technology
Placement company
BlackBerry
Before coming to Surrey I'd built a couple of applications for BlackBerry mobile phones and also attended the company's developer events in Amsterdam and London. When it came to choosing a company for my Professional Training placement, BlackBerry was therefore an obvious choice.
I worked with the Carrier Technical Managers (CTMs) – a team that works directly with mobile phone carriers like O2, Vodafone and EE to help launch new products or software updates to existing devices.
My role was to provide the software and hardware to the carriers, and then monitor the feedback and logs received. I was responsible for reproducing software defects and raising these issues with development teams in Canada, after which I'd help to pass feedback between BlackBerry developers and carriers in order to resolve issues. It was a highly technical role, but also one that provided lots of opportunity to talk to customers, either in person or through conference calls.
During my placement I was also a 'BlackBerry Ambassador' and visited Carphone Warehouse stores, where I helped demonstrate the BlackBerry PRIV smartphone to staff and customers.
My proudest achievement on placement was using my software development skills to help develop new internal tools designed to improve efficiency within the CTM team, including one that helps to automate the release of software to customers. The team were really grateful for these tools as they save them many hours' work each week.
I learned a lot on placement. I experienced life in a corporate environment, built a knowledge of mobile networks and technologies, and found out how important it is to work as a team to ensure targets and deadlines are met. Working with people in different time zones was also a new experience – with most of BlackBerry's developers located in Canada, I got used to receiving emails at all times of the day.
When I applied to the University of Surrey I was interested in the placement year, but didn't feel it was crucial in my decision to study here. Now I'm really glad I decided to do one, partly because it's made me realise how valuable and relevant the knowledge I've gained on my course is to industry.
I chose my course – Computing and Information Technology – because, having already designed apps and experimented with running my own business, I felt it would let me further understand different technologies as well as broadening my business skills. Every company now needs people to help manage their IT. A degree like mine will provide access to a whole range of jobs and career paths even if, like me, you're not 100 per cent sure of the specific role you want within the IT industry.
Find out more about our programmes in Computer Science, including our BSc Computing and Information Technology.