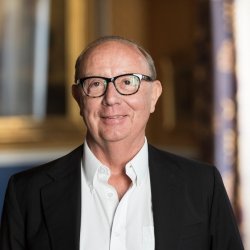 Professor Gavin Whichello
"I had four fantastic years at Surrey and enjoyed all aspects, especially the social side!"
Gavin Whichello has had a long and varied career in the technology and training sectors, working in both the US and the UK. He founded Training International, which became the UK's largest PC training company and was floated on the London Stock Exchange in 1987.
Gavin co-founded Winmail, a global leader in the messaging marketplace, and has held a series of executive roles at both public and private technology companies.
He has funded fast-growth technology businesses and taken executive roles to aid those companies in the early stages of development prior to public offering. He qualified as a teacher in 1975 and was also a senior lecturer in computer science. He is owner of Qube Learning, a leading national training provider specialising in vocational qualifications, core skills and short courses.
A working-class boy from Blackheath in south east London, Gavin was motivated to succeed and carved out a very successful path for himself. His drive and commitment saw him graduate in 1974 with a BSc in Human and Physical Sciences. He was awarded the Vice-Chancellor's Outstanding Contribution to Surrey Award 2019 in recognition of his roles as visiting professor in Surrey Business School, student mentor, advisory board member and PhD scholarship funder.
Why did you choose to study at Surrey?
I initially decided to study physics and was very impressed by Professor Daphne Jackson, the UK's first female professor in the subject, and the syllabus. One of my relatives had become a chemical engineer and my parents thought that studying a science degree would be a good choice, and potentially encourage a rewarding future. I was extremely good at maths so agreed that this was the right direction to go.
Why did you change to study human and physical sciences?
It was Daphne Jackson's suggestion after the first year in which I had mixed results; I had a talent for the mathematical-based work but was not so good in other areas. She was right as the human and physical sciences course was perfect for me. I have always been very interested in the arts and the course combined these with science and I was much more engaged in the degree as a result.
How did you benefit from being a Surrey student?
I had four fantastic years at Surrey and enjoyed all aspects, especially the social side! I was slightly older than my year group as I had taken a couple of years out, working on building sites to earn money and survive. Being at university gave me the opportunity to think about the future although it was still a couple years after leaving Surrey before I realised that I could make a living from computer science.
Have you any favourite memories of your time at Surrey?
One of my highlights is being picked for the first football team in my first term at Surrey. Another really strong memory is the student takeover of the Vice-Chancellor's office and turning it into a bar. I wore his robes while drinking gin!
Tell us about your career
Discovering I was really good at computing set me up for my career. This was a time when computing was really beginning to take off and I was lucky enough to always be on the cusp of the changes that were happening – I was one of the first to move from mainframe computers to PCs, became an expert on networks software and started investing in internet companies early on.
After university, I was a schoolteacher in south east London for three years but realised I didn't want to financially struggle for the rest of my life! I worked every night to learn computer science, becoming a lecturer, before moving into the corporate world. I became a leading expert in the UK on database analysis and my career took off.
My particular strengths are turning around companies, sales and marketing, and thinking about how to make an attractive and prosperous exit from the start.
What are your career highlights?
Turning around Isotrak from near administration to a high value exit in eight years, promoting undervalued but key individuals into positions where they could seriously affect the success of the company.
What have you enjoyed most about your career?
I'm driven by adrenalin-based business and the challenges that brings, success, technology, developing relationships and building teams where you rely on each other – I also love being the boss!
Why is supporting the University important to you?
I visited the campus many years after graduating, more from curiosity than anything to see if and how it had changed. I met with academics and was inspired by the University's openness to new ideas and thought how it promoted itself was excellent. Surrey presented a very compelling case to be involved which has led to a long relationship, particularly with Surrey Business School and Andy Adcroft (Deputy Dean).
What advice would you give to students hoping to become entrepreneurs?
Think about where the business is going to be in five years' time, step back, and work backwards planning each stage of the journey. People think just starting a business is the main component but it's not – the exit is the really important part. When I started a company, I always thought about how I was going to sell it. Running a business is totally about numbers and you need to be able to do the numerics and focus on key performance indicators.
Discover more about our courses in biosciences and our courses in physics.