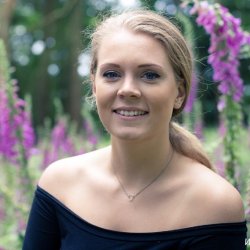 Rebecca Ibbotson
"The modules on my course gave me fantastic experience in concert management, which became an invaluable asset for working in the music industry."
Why did you choose to study music at Surrey?
Initially, it was the course that drew me to Surrey, as the variety of module options available were exactly what I was looking for. It also seemed the perfect place to study with quick and easy transport links straight into London Waterloo, allowing me to easily attend gigs or networking events in the city centre. 
Everyone we met on the open days at Surrey was smiling and helpful and the lecturers were interested in who you were and your aspirations at Surrey. I could just tell they were going to be supportive of my development and the current students couldn't recommend it highly enough. My parents were sold and, most importantly, so was I. 
How has your musical career progressed?
After graduating in 2016, I started my elected role as the Student Union's Vice President, in charge of activities across campus, managing all student sports teams and societies. I ran numerous campaigns and was proud to initiate the #ThisGirlCan campaign on campus, increasing student participation and student self-confidence.
"I liaise with a variety of clients and often have the opportunity to meet and work with big industry names."
When my year in office came to an end, I moved to London and now work for a music company as a Digital Marketing Manager. I liaise with a variety of clients and often have the opportunity to meet and work with big industry names. Working in marketing also allows you to be creative, developing campaigns and filming musicians in action.
How has being a student at Surrey influenced your career?
Surrey has massively influenced my life, and I'll always be grateful for the friends, memories, and opportunities which have shaped my career path and built me into the person I am today. The modules on my course gave me fantastic experience in concert management, which became an invaluable asset for working in the music industry. Since moving to London, I've met people through work who studied at Surrey years before I did, even back to when Surrey was Battersea Polytechnic. This mutual talking point has enabled me to make further connections, not just in the industry, but as new friends too. My advice to current music students is to volunteer, try new experiences and make as many connections at Surrey as you can, as our industry is all about networking. 
What's your advice to students coming to study at Surrey?
Trying new things can seem more daunting once you enter the world of work, but you only get out of life what you put in. So, if you're still studying or perhaps even choosing which university to go to, just make sure to enjoy as much of what Surrey has to offer and embrace every opportunity you're presented with.
Discover more about our courses in music and sound recording, including our BMus (Hons) Music.