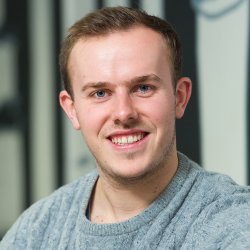 Richard Banbrook
"I think university has really allowed me to grow in confidence, meet great people, gain real life work experience and develop great skills."
"I chose Surrey because I was very keen to do a year in industry, so that I would leave university not only with a really good degree, in a reputable subject, but with real life experience. In addition, Surrey is consistently in the top 10 and has great employability statistics. Finally, I really liked Guildford as a town and the campus in general.
I attended an open day as well as an applicant day. I really liked how the campus was quite small, with accommodation being so close to the facilities. I was surprised at the amount of green space on campus, as well as the amazing facilities and lecture theatres. However, the Sports Park was the clinching factor – the facilities are of professional standard but for student use.
I really enjoy that the lecturers leading the modules are specialists and experts in that one area. I also love the analytical and numerical aspects of my degree, and being able to compare theory to stories you see on the news.
The academics are very welcoming. Everyone is assigned a personal tutor to help with any academic or personal issues. I found the main difference between university and school was the relationship with members of staff. At university you are treated more as equals and they are more than willing to help with any problems.
In first year I lived in Band C accommodation, Battersea Court, directly opposite the Library. The location was great, as it was really close to virtually all parts of Stag Hill campus. I shared my flat with 14 other people and I made some great friends that I now live with off campus. The facilities in the accommodation are really good and common areas are regularly cleaned. While living with so many people in one flat was daunting to start with, it was actually really good fun and meant that I knew loads of people.
I'm an active member of the Cricket society at university. It's a sport which whilst it takes the sporting side seriously, it's also very social. I have met so many people and have had the chance to train using great facilities, as well as represent my university in BUCS on a Wednesday afternoon.
There are loads of great things about Surrey. I really enjoy how close everything is, from Tesco, the Sports Park, the main campus and the town. The Sports Park is amazing, as are the pubs in Guildford town centre!
In final year I'm spending most of my time either in lectures, or in the Library. But there are great social areas such as Lakeside coffee shop or by the lake on a nice hot summer's day.
For my Professional Training placement, I spent 13 months on placement at the Bank of England, where I was based in the Prudential Regulatory Authority in London.
My work was to analyse major UK banks internal risk models, which was very technical and completely different to what I had learned at university. Two of the highlights were going on visits to major banks in their fancy offices, as well as contributing to a piece of work that has now been turned into Bank of England policy. Plus, living in Clapham was fantastic and very social!
I developed technical skills and knowledge in the credit and market risk area, as well as loads of soft skills such as presenting, communicating clearly and working as part of a team. In addition, I built a strong network of people and made loads of friends.
The University were really supportive when I was applying to roles. They ran CV and cover letter workshops, and prepared us for assessment centres. They also had a database of roles which the University recommended, some of which were for Surrey students only. Whilst on placement, a member of the Economics department visited me twice to make sure I was fine and enjoying the role.
I would definitely recommend a placement to everyone. I believe it has changed me in many ways. Firstly, I now have an idea of what career path I want to pursue. In addition, I have gained experience which will make applying for graduate roles easier. I believe I have become more efficient at working, as well as better at managing time since returning from placement.
I think my best moments at university have normally involved socialising with friends that I will keep for life. When I arrived to university I was rather shy and an introverted person. I think university has really allowed me to grow in confidence, meet great people, gain real life work experience and develop great skills. My advice to anyone thinking of applying to Surrey is to go for it! You will meet like-minded people, get a great education and have good job prospects when you leave."
Discover more about our economics programmes, including our BSc Economics.