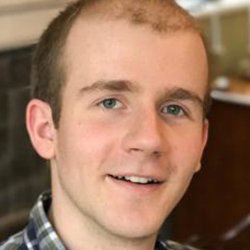 Ryan Skillett
"I like the variety that the course offers – it's got me out of my comfort zone and expanded my background knowledge."
Course
Advanced Materials
"I'm a scientist at Archer Technicoat Ltd, a coatings company based in High Wycombe which specialises in metal and ceramic coating by chemical vapour deposition. I decided to undertake the MSc in Advanced Materials at Surrey because it was recommended by my boss, who did the course a few years ago. My company offered to put me through the course to further my knowledge of the field.
My interest in advanced materials began when I studied chemistry as an undergraduate. I found physical and material chemistry the most interesting topic – I like the fact that the subject matter is broad and there are an almost unlimited number of applications. 
Studying for the MSc course at Surrey has been a very positive experience. I've found the staff friendly, helpful and supportive. They are clearly passionate about their fields and this comes across during their lectures. The facilities are also of high quality and well maintained. I like the variety that the course offers – it's got me out of my comfort zone and expanded my background knowledge.
Balancing my studies with working has not presented a huge problem. The deadlines are long which gives you plenty of time to get the work done. I use weekends, evenings and the occasional lunch break to complete my coursework – and still have time for a social life. One piece of advice I would give to students starting the course is this: when you're given coursework, start it as soon as you can. Even if it's just writing a few notes for each question, it will be much easier to complete when it's fresh in your mind.
Being at Surrey also gives you access to a range of other opportunities. The Surrey Sports Park is absolutely amazing. It offers such a wide variety of sports that there's something for everyone.
I feel that the MSc course will definitely help me further my career. I've already been able to apply a lot of the knowledge learned in the introductory module in my work, and having more of a background in materials has also helped me when meeting customers. As we work with several different industries, it's impossible to know everything about every application, but the fundamental knowledge I've learned on this course has meant that the extra details have been easier to grasp.
I'm currently very happy in my job, so I hope to use this course to further my career within this area."
Discover our programmes in Mechanical Engineering Sciences, including our MSc in Advanced Materials.