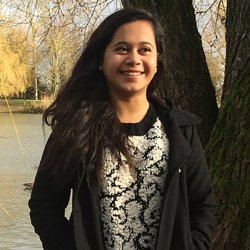 Sai Save
"For my placement, I'm working as a research assistant in a small pharmacology lab at Weill Cornell Medicine, helping with the major experiments and perfecting my techniques."
Course
Biomedical Science BSc (Hons)
Placement company
Weill Cornell Medicine, Cornell University
Why I chose Surrey
I was always good at biology in school; it was the one subject I looked forward to out of all. So when it came to finding a degree, I knew this was the right field for me as there's still so much to be discovered.
You could say it was love at first sight when I found my BSc (Hons) Biomedical Science course. All the modules listed were exactly what I was looking for in a course. In Canada, it's very hard to find a course like this and I was instantly hooked.
My course
There is so much new information packed into every single one of my modules that I feel like drinking it all in.
I always enjoy the practical experiences that my course offers. I love being in the labs and getting to see first-hand how the processes work. Sometimes, when I find it difficult to grasp a certain concept, we'd have a practical experiment on it and it would make sense once I saw it in action.
My placement
I'm currently on a Professional Training placement at the Weill Cornell Medicine at Cornell University in New York City, working as a Research Assistant in a small pharmacology lab. I help with the major experiments, while perfecting my techniques. I already know so much more now compared to this time last year. Learning about these techniques in lectures versus actually having to perform them are two very different things. My interest in the subject has increased thanks to this opportunity. Aside from getting to learn all of this, the highlight of my placement is that I get to live in the very centre of New York City. I'm enjoying my time here; there is so much to see!
I would definitely recommend a placement to anyone. When I started my course, I was actually enrolled in the three-year programme and had no plans to spend an extra year in England. But gradually I understood how good it would be to gain experience before I graduated. I'm hoping it makes me more employable after my degree. This placement has increased my confidence in the lab, and in my work, and I believe I am now ready for my final-year dissertation. I'm always trying to put myself outside of my comfort zone, and undertaking a placement in New York was the biggest leap I've ever taken.
My life at Surrey
Guildford is one of the nicest places I've ever lived in. I come from a pretty big city in Canada and moving to Guildford at first seemed like such a daunting aspect. I was worried that the small town life wouldn't suit me. It was definitely strange at first, and it took some getting used to, but now I find myself missing Guildford when I'm home for the holidays. I would say that one of the best things about Surrey is its location. We're so close to London too, which is a definite plus!
My career and development
I think I've changed quite a bit since starting at Surrey. When I first moved, I was extremely shy and nervous about having to move to a different country. I didn't know anyone and I had to become a little bit more extroverted to approach people and make friends. I would still consider myself a shy person, but I know that through my experiences here at Surrey, I have become more confident in myself and find approaching unfamiliar situations easier.
Maybe this sounds cliché, but I am forever grateful to Surrey for giving me so many new opportunities. I have made many memories here and I hope to make more in my final year.