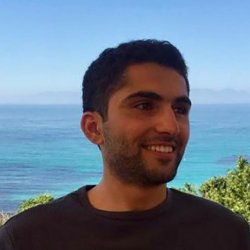 Salar Arbabi
"I believe having a broad set of skills is important for engineers, and the course at Surrey provides a great foundation for that."
Course
Mechanical Engineering MEng
"I chose to come to Surrey because I liked the fact that it's a campus university meaning everything is accessible, including great sports facilities. The University also repeatedly appears in the top 10 in the UK for my subject, mechanical engineering.
One of the aspects I most enjoy about my course is that, alongside core mechanical engineering subjects, we cover modules from a number of other disciplines. In second year I did a module in electronics instrumentation, in third year we had a management module, and in my final year I've chosen to take International Business Strategy.
I believe having a broad set of skills is important for engineers, and the course at Surrey provides a great foundation for that.
Another advantage of studying at Surrey has been the opportunity to undertake a Professional Training placement year. I spent mine at TTP Group plc, a Cambridge-based independent technology consultancy where I worked in a group specialising in sensors and actuation technologies.
My project leader trusted me and gave me a lot of responsibility right from early on in the placement. The achievement I'm proudest of is designing, modelling and building a prototype for the company's novel 'haptic' feedback technology (which involves creating different perceived surface textures through ultrasound vibrations on a touch screen). The prototype was showcased at the Consumer Electronic Show in Las Vegas.
Working with some of the brightest engineers and scientists in the country was an invaluable experience and has definitely affected the career choices I've made following my placement year.
Since coming to Surrey I have changed in lots of ways, both personally and professionally. I've become much more confident, and my approach to solving problems has become more systematic. Outside of my studies I'm part of Surrey's Student Enterprise, which offers evening lectures on various topics from public speaking to entrepreneurship. Through this society I've taken part in enterprise competitions which have been a great opportunity to nurture my soft skills and evaluate my performance under pressure.
Studying engineering can be challenging. Managing all the course work, group projects and social life hasn't always been easy and there were times when I questioned whether it was the right career path for me. Looking back, I'm very glad that I stayed with it. I'm now hoping to secure a PhD position at Surrey as part of the CARMA (Cloud-Assisted Real-time Methods for Autonomy) project which aims to develop and test cooperative automated driving technology."
Why not explore our programmes in mechanical engineering sciences, including our Mechanical Engineering MEng and BEng degrees?