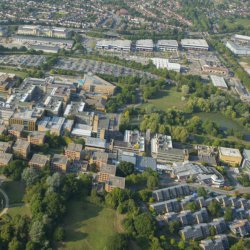 Sam Simons
"I enjoy discovering new things."
"I joined Surrey in 2008, taking an MEng in Medical Engineering. I enjoyed the subject so much, and wanted to explore things I had not yet tried, so since completing my degree I've stayed on to study for a PhD in Medical Engineering.
Examples of students going on to get great graduate jobs from Surrey, and the University's strong industrial links, inspired me to take on a PhD. On an open day, both my mother and I saw first-hand how much passion people had for the place – whereas other universities felt cold, clinical and unloved.
The facilities here are very good, improving year on year, and my supervisor helps me check understanding of papers and research methods. I have been fortunate enough to have won prizes during my time here, including the Wells Memorial Prize for best MEng mark, IET Denis Hill award for my thesis and a best paper/speaker award.
I'm looking at how electroencephalography signals change their regularity and complexity through changes to the brain. I've been given an IET Leslie H Paddle Scholarship to continue my research, which is a huge help, and I had the wonderful opportunity to attend the Cheltenham Festival of Science and meet with like-minded engineers and scientists.
I'm not sure where I'll go after completing my PhD. I enjoy discovering new things so I hope my next job will allow me to grow as a researcher. As a student ambassador, I enjoy talking to other students and passing on my passion for engineering, so it would be great to do something in that field."
Discover more about our mechanical engineering programmes.