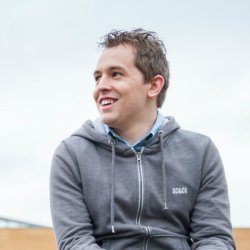 Sam Williams
"Choosing to study here was a life-changing decision."
Course
Electronic Engineering
"During my four years at Surrey, I found the culture of encouraging innovation to be particularly strong. For example, for my final year project, I decided to create a mobile app for Surrey, incorporating features that I would have found useful as a student. I worked with a number of tutors who were also passionate about mobile app technology, and discussed ideas with them. They gave me really valuable input, and collaborating with them throughout the project was incredibly helpful.
After finishing my project, the University was very supportive in helping me to get the app into a deliverable state, and I'm now improving, reskinning and rewriting it ready for release at the official university app MySurrey.
The academic staff and the teaching environment at Surrey introduced me to new ways of thinking during my time there. They definitely expanded my curiosity about my subject, helping me to explore the various areas of Engineering and decide which direction to take.
Having the placement year was also a great way to experience the job applications process, work life, and confirm the subject area was right for me. After my placement at IBM in my third year, I discovered early on in my fourth year that I would secure a job if I achieved a 2:1 or above. Knowing this drove me to work even harder for my finals, and last summer I graduated with a first – I'm now on IBM's graduate programme.
Choosing to study at Surrey was a life changing decision for me, and an important step towards a fantastic career."
Discover more about our electrical and electronic engineering programmes, including our BEng Electronic Engineering.