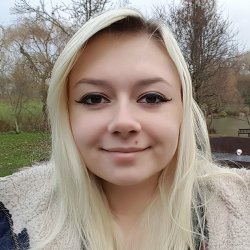 Samantha Treagus
"My biggest achievement so far has been finishing my professional training year with Cefas"
"I chose the University of Surrey for the Professional Training placement – it wasn't available at other universities I had looked at.
My degree is very centred around human pathology. I always wanted to be involved in disease research. I am passionate about this subject because it helps people through scientific research. Therefore I find the pathology, pharmacology and biochemistry modules highly interesting, as I enjoy learning about the pathways through which diseases can be caused and also about how the diseases can manifest and be treated.
The staff are always very professional and willing to help and I appreciate their work very much. 
I did a Professional Training placement at Cefas. I found out about it through the university careers service and to secure it I had an interview.
During this placement, I was involved in using an array of microbiological and molecular biological techniques. I learned how to generally work in a lab, how to work to an international standard for some techniques, and how to perform experiments and plan my own time. The highlights were the work environment, it was relaxed and relatively un-pressured, and the people with whom I worked, who were all very laid back and lovely.
I would recommend doing a Professional Training placement, not only does it boost your employability, it also gets you away from the coursework-exam routine of the first two years of university. Which, for me, was a much needed break from the stress. 
My biggest achievement so far has been finishing my Professional Training placement with Cefas in such high regard with the people that I worked with.
My advice to first year students would be: It's a good idea to get to know what you are capable of in first year (regarding coursework, exams etc.) so that you know what your target should be in second and third year. However, make the most of how relaxed first year is!"
Discover more about our biosciences and medicine programmes, including our BSc Biochemistry.