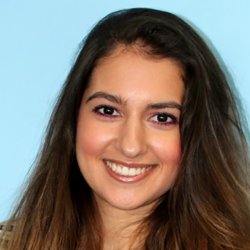 Sandy Karr
"I've really liked my time at Surrey so far."
"Surrey was present at my college's University Choice Fair and I talked to some of its representatives and then noticed the high league table position for the University. That made me note it as one of my favourites and once I'd visited the campus I had fully made my decision that Surrey was to be my first choice.
I decided to come to Surrey because wanted to be a private detective, investigator or work in the agent/national security fields and Criminology at Surrey seemed to do the modules that I needed.
I attended an Open Day and it confirmed my decision. The professors made a very good impression and seemed proud and passionate about their subject.
I'd definitely recommend coming to an Applicant Day and an Open Day and seeing what the course is about and engaging with the teaching staff. It really helps to put you at ease and you'll be thankful that you went.
The aspects of my programme I enjoy the most are the pure criminology side like forensics and crime prevention; I like the quantitative maths side to it too. The staff are really great and professional.
I think the best things about life in general at Surrey are the campus, the Library and the programmes themselves. I also wrote for the university Newspaper last year and I'm currently a course representative."
Discover more about our criminology programmes, including our BSc Criminology.