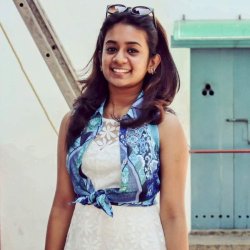 Sanjana Anand
"Choosing to do my masters degree at the University of Surrey was the best decision I could have made." 
Course
Marketing Management MSc
"The MSc course at the University of Surrey seemed like the perfect fit as it offered a good blend of digital marketing and communication teaching through modules like Digital Marketing and Social Media and Integrated Marketing Communication. The course also focuses on the analytical part of marketing as well as the entrepreneurial and e-business aspects, which provides students with strong academic knowledge for the modern business world. For me, this course stood out as the best choice among those offered by other universities.
Staff are very helpful, supportive and always encourage us to do better. Every student has a personal tutor who we can contact for advice. The facilities offered by the University such as SPLASH are also great, the team there help us with various learning development workshops such as reflective writing and public speaking.
"Life at Surrey is amazing. I get to interact with a lot of different people both at the University and in Guildford."
The University has a wide range of societies for us to get involved in and meet others with similar interests. It is a great opportunity for individuals to develop a new interest or hobby. The campus has restaurants, a pub and a Starbucks which is a great place for us to sit and relax with friends for coffee or dinner. The Thursday market also offers fresh fruit, vegetable and food stalls, making it convenient for us.
As part of my MSc course, I had the opportunity to take up a placement module in which the Employment and Careers Centre provided me with complete professional training support after I secured a placement. I have been offered a role as a Social Media Marketing Intern at Parry Murray, a textile company based in London. After I complete the internship, I intend to go back to my home country, India to work in a marketing agency for a couple of years until I am capable of and prepared to start my own marketing consultancy.
Choosing to do my masters degree at the University of Surrey was the best decision I could have made. The people at the University made me feel at home from day one which helped me feel less homesick. Meeting so many people has allowed me to make new friends for life and learn more about different cultures. The exposure I have gained as an international student will benefit me in many ways. I have enjoyed every bit of my masters life."
Discover more about our courses in business, marketing and management, including our MSc Strategic Marketing.