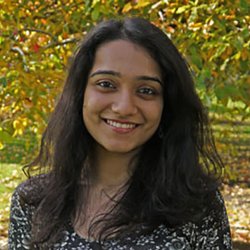 Sanjana Bhaskar
"I'm glad to be a part of such a vibrant student community."
Course
Biotechnology
Placement company
Neusentis, Cambridge
"I chose Surrey for the modular degree structure and the opportunity for a Professional Training placement.
During the course, you're encouraged to think independently and critically analyse every topic learnt, which has helped me develop in-depth scientific understanding of the various modules. Staff are extremely friendly and helpful, and the University offers a lot of resources and support though the library, SPLASH and the Careers Service. I have learnt to work more independently and have received a wealth of lab experience.
For my Professional Training year, I went to Neusentis, a Pfizer research unit in Cambridge where I undertook a lab-based project and molecular pharmacology lab work aimed at optimising receptor occupancy measurement using chemical biology tools. In addition to lab experience, I acquired team working and leadership skills, as well as scientific presentation and writing skills. The work was challenging, however, I learned how to scientifically troubleshoot through various hurdles to successfully address the project's aims.
I would definitely encourage all undergraduates to pursue a Professional Training year. It provides a wealth of experience that can help shape future career ambitions.
I lived on the Manor Park campus for the first two years of my degree. The rooms were very comfortable and spacious with ensuite facilities, and I loved the idea of court life mentoring and the regular socials that were organised.
Surrey offers a well-rounded undergraduate experience. It is ideally located, with a beautiful campus and top-notch facilities. There are a lot of activities throughout the year in the form of clubs, societies and social events. I'm glad to be a part of such a vibrant student community."
Learn more about our biosciences and medicine programmes, including our BSc Biotechnology.