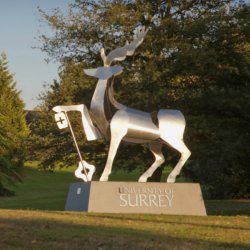 Sanna Arman
"The academic staff were extremely supportive throughout my year of study."
Course
International Commercial Law
"Before coming to Surrey, I had just completed my undergraduate degree in law and was certain I did not want to go into the practice of law - as a solicitor or barrister. A Masters in International Commercial Law seemed ideal for me and Surrey was not only a great university, but also offered modules that aligned with my interests.
The contemporary world is a numbers game and as the world becomes more connected, so do the rules of trade.
With maths being my weakness, International Commercial Law was a perfect way for me to understand the economics of the world – without the overwhelming analysis of statistics – by studying the rules, regulations and institutions that govern it.
I strive to contribute to the strengthening of legal institutions in Africa. Most nations are still lagging behind, particularly when it comes to their position in matters involving international institutions, where our position is that of spectators, rather than actors – despite the fact that some decisions have a great impact on the continent.
The academic staff were extremely supportive throughout my year of study. I never felt any form of disconnect between my tutors and I, which made them very approachable.
The most important facility for any law student is the library. The Surrey library had a lot of resources to meet my needs from dissertations to books.
I lived in University accommodation while at Surrey. Not only was this very convenient as it was close to the library, my classes and other facilities, but sharing a flat with individuals from different backgrounds gave me a chance to gain valuable knowledge on their cultures."
While at Surrey, Sanna Arman won the Carr Prize for International Trade Law, awarded annually to the student who produces the LLM International Trade Law paper.
Discover our law programmes, including our LLM International Commercial Law.