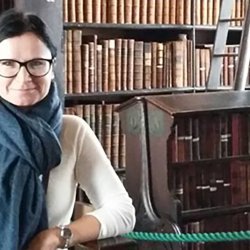 Sara Orthaber
"My supervisor helped me to achieve my aims by encouraging me to attend various types of conferences from the very beginning of my PhD."
"Before starting my PhD, I completed my undergraduate studies in Translation Studies at the University of Graz in Austria and an MA in Intercultural Communication with International Business at the University of Surrey. I had been working at a university in Slovenia for three years when I got the opportunity to continue  my studies. Having completed my MA at the University of Surrey a few years earlier, I became interested in the topic of (im)politeness and wanted to pursue it. I was very lucky that my supervisor, who is an expert in this field, was available for supervision.
I was very satisfied with the MA study programme and have fond memories of student life at the University of Surrey. However, my supervisor's expertise in the subject that I wanted to pursue was one of my main reasons for choosing the University of Surrey.
My experience of studying for a PhD at Surrey was unique, I was a part-time student who also worked full time. I received support in the form of guidance, workshops, small financial support in attending conferences, and convenient access to literature.
My supervisor helped me to achieve my aims by encouraging me to attend various types of conferences from the very beginning of my PhD and helping me to develop my academic writing skills. While doing research, I attended various workshops offered by the Researcher Development Programme team. I particularly enjoyed the weekend writing retreat and learning to use various desktop reference management and bibliography-creation software, all of which was very useful.
I collaborated on several publications with my supervisor, which provided a much-needed insight into the life of a professional academic.
I am proud of each and every moment that has helped me to become better at what I do, whether this was a productive chat with my supervisor on Skype, a relaxed conference dinner where knowledge was shared with others, or a paper that was published in one of the top journals from the field.
The University's location and its proximity to London has enabled me to meet new people and keep in touch with those I met while studying at Surrey.
I visited many places near Guildford, including London, Portsmouth, Plymouth, Oxford and Cardiff. There are also very good connections to major airports from Guildford, especially Gatwick Airport and even the more remote Stansted Airport.
I am currently working as a lecturer at the University of Maribor in their Department of Translation Studies."
Discover our courses in language, communication and translation studies, including our PhD in Linguistics.