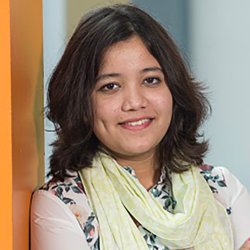 Sharvari Raut
"My Professional Training year allowed me to apply the theory I learnt in my first three years at university into practice."
Course
Chemical Engineering
Placement company
Grace GmbH & Co KG
"During my Professional Training placement at Grace GmbH & Co KG in Worms, Germany, I not only got an insight into processes used in oil refineries, but also learned a new language – by the end of the year I was able to understand and communicate in German.
I was based in the Catalyst Evaluation Services (CES) group of Grace Catalysts Technologies, a global leader in the manufacture and development of Fluid Catalytic Cracking (FCC) catalysts, which are used in refineries to convert crude oil into various valuable products.
I was assigned two projects on placement which ran simultaneously. This meant that I had to learn to manage my time effectively, balancing the demands of the different tasks and allocating time for reading literature and performing experiments in the lab.
Both projects focused on the research and development of new laboratory methods that mimic the deactivation procedure of FCC catalysts similar to that in the refinery. The first involved making further improvements to a newly developed lab deactivation procedure, and the second focused on constructing a new unit, performing safety assessments and analysing the results. This required me to communicate with people at different levels of the organisation, which improved my communication as well as my team working skills.
One of the most important things I learnt during my placement was the importance of safety, which is an integral part of Grace's working culture. Every method is carefully assessed for safety and everyone working in the labs has to undergo safety training before beginning any trials.
On placement I was required to write monthly reports and give monthly presentations on the status of my projects. This really boosted my confidence in presenting and improved my report writing skills.
My Professional Training year allowed me to apply the theory I learnt in my first three years at university into practice. Chemical Engineering at Surrey is taught from both a practical and theoretical point of view, not only covering core modules such as mass and energy balances, but also introducing us to business-related modules like engineering management and corporate sustainability.
Before doing a professional training year I was planning to work after graduating but spending a year working on a new development project has given me an insight into the research option, and I'm now considering the possibility of a doctorate in the field of chemical engineering."
Find out more about our chemical and process engineering programmes, including our MEng Chemical Engineering.