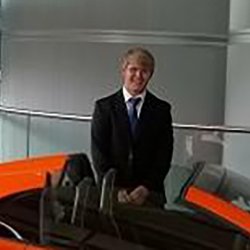 Shaun Rance
"I'm proud that I've become known within the company as an engineer responsible for quality test vehicles, and viewed at the same level as a graduate rather than an intern."
Course
Automotive Engineering
Placement company
McLaren Automotive Ltd
"During my Professional Training placement year I've worked as a Vehicle Development Engineer within the Vehicle Development & Prototype Build team at McLaren Automotive Ltd.
McLaren is a company known for pushing the boundaries of what's possible, and innovating with high performance in mind. Doing my placement there has allowed me to push myself and grow in confidence and professionalism, while enhancing my engineering skills.
On placement I've been responsible for a fleet of vehicles, performing an array of tests to progress towards the next vehicle release. I've defined the technical specifications of each of the vehicles on my programme, liaising with function groups to build a vehicle on budget, with sufficient product representation for phase one testing. My role has now developed to include managing some of the vehicle builds, which involves me working with a team of technicians and function groups and making engineering decisions to ensure a high specification build.
What I've learnt is that industry isn't as scary as students sometimes perceive it to be, and there are always opportunities to prove your personal attributes and technical abilities. I'm proud that I've become known within the company as an engineer responsible for quality test vehicles, and viewed on the same level as a graduate rather than an intern. Provided you have a strong work ethic, I've found that you can really develop while on placement.
I was originally inspired to study Automotive Engineering because I'd always been fascinated by cars – particularly performance vehicles – while also having an interest in maths and physics. The opportunity to do a Professional Training placement was a crucial factor in my decision to come to Surrey because the industrial experience you gain is highly valued in the job market, while also providing clarity of career path as you go into the final years of your course.
My Professional Training placement has exposed me to a wide range of career options, and given me a particular interest in chassis systems. My ambition when I graduate from Surrey is currently to pursue a career in vehicle dynamics, focusing in vehicle controls."
Explore more about our mechanical engineering programmes, including our MEng Automotive Engineering.