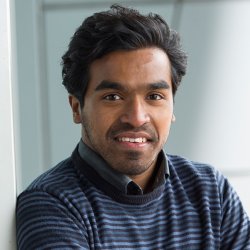 Sifat Hasan
"My time at Surrey has been a very rewarding and memorable experience."
"I have always been interested in marketing as my father was in the advertising industry. After doing well in Economics and Accounting in my GCSEs and A-levels, studying Business Management at Surrey seemed like the right option for me.
When deciding which University to attend, Surrey's rankings in the league tables were an important factor for me, especially after observing that its position had been rising for the past few years. However, some of the most important reasons for choosing Surrey were based on the student life here on campus and its reputation for producing employable graduates.
I observed that most universities, especially around the London area, did not have much of a campus culture. Thus, Surrey was very attractive to me because of the friendly campus environment and location. Also, my biggest priority before coming here was to get a head start on my career as soon as I graduated. The links that Surrey Business School has with renowned employers is second to none.
Since starting at Surrey I have become a more organised and goal-orientated person.
Group projects and case studies are some of the aspects of my programme that I enjoy the most. I feel like applying theory to the real business world is the best way to learn. Many of the modules in the Business School have group projects where we get to work with real world business cases.
Also business competitions, which are incorporated into our modules, are great opportunities to get involved. I took part in the Nielsen Case Competition in my second year, in which student teams competed against one another to address a real-world business issue, and it was definitely one of the highlights of my degree.
Another highlight was working for IBM (International Business Machines Corporation) as part of my Professional Training placement. The work involved assisting managers with many activities critical to the business. I worked as a Resource Management Analyst and part of the Project Management Office Team for one of IBM UK's biggest clients. One of the major highlights of my Professional Training placement was the opportunity to work at the Wimbledon Tennis Championships 2015.
I would definitely recommend a Professional Training placement as it is a great way to find out about what you really want to do after graduation and makes you a lot more employable in your final year. It is a great asset to have a year of professional experience under your belt before you graduate."
Discover more about our business and management programmes, including our BSc Business Management.