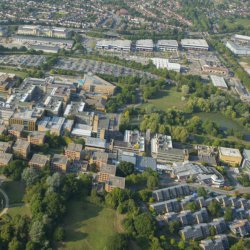 Simon P Wilde
"My time at Surrey had a huge influence on my life and my career; it gave me the skills I needed to develop my career."
What attracted you to choose Surrey and to study your course there?
After finishing my secondary school in France, I spent two years at University in France studying a very general degree in pure maths and physics. I never felt that what I was learning was preparing me for life after my studies let alone prepare me to work in the 'real world'. I happened to pick up Surrey's University prospectus that my younger sister had (as she was planning to study in the UK) and was struck by the fact that the focus at Surrey was give the student the practical knowledge, skills and focus to work in that 'real-world'. Surrey's emphasis on industrial training was the best illustration of that.
I chose specifically the civil engineering course because it covered topics which were varied and which I thought would be really interesting to study and would be challenging. Most importantly I could see myself working in that industry.
What is the strongest memory of your time at Surrey - What do you picture first when you think of being here?
The strongest memory would be meeting my wife, we were on the same course! Otherwise, the things that really come to mind are the sense of community on campus and in particular in the Civil Engineering Department as well as the fun we had. The Civil Engineering Department was a tight knit group; from day one all the staff knew you by your first name, doors were open, people were there to help and were approachable. 17 years on, we are still in touch with the remaining lecturers.
What is the one thing you would say about Surrey, or the course you studied, to someone who doesn't know anything about it?
Go there! I have worked abroad for the last 17 years and Surrey, and the Civil Engineering Department in particular, are very highly regarded. Their graduates are sought after and have very good reputation.
How did you change as a person during your time as a Surrey student, and how has your time here influenced your life and career since then?
My time at Surrey had a huge influence on my life and my career, it gave me the skills I needed to develop my career. After completing my industrial training, I really got to understand what I was learning would be used on a day to day basis and that this would stand me in good stead. My time at Surrey gave me huge opportunities such as working in Hong Kong during my industrial training which allowed me after graduating to return there and work on some very big projects.
Where did you spend your Professional Training year and how did it benefit you?
As I mentioned above, I spent my industrial training in Hong Kong working for a major foundation contractor. This was an amazing experience where I learned a lot. I was not treated as a student, I was thrown in at the deep end and treated as an engineer and I ended up working on several of the new (at the time) airport projects. That year really allowed me to gain an appreciation of how the knowledge I had gained at Surrey would serve me on a day to day basis. I learned a lot technically but most importantly I learned about the responsibilities which come with a job and the importance and working and communicating with people. That year influenced the rest of my career since I have lived in Hong Kong for the last 17 years.
What has your career journey been like and what do you do now?
I graduated with a first class MEng in December 1997, after which I worked for a large UK consultancy carrying out bridge impact assessments and inspections. I then moved back to Hong Kong where I worked for a large geotechnical consultant designing building foundations, large retaining structures and structures to resist landslides and boulder impacts. I then had the opportunity of moving into the contractual side of civil engineering and became claims engineer/contracts advisor and I have had this role on several large scale projects for the last seven years. My role is to prepare claim submissions for main contractors to recover time and money entitlements and to advise them on contractual issues. I have also been involved in mediations and arbitrations when disputes have arisen between projects.
What do you find most enjoyable about your line of work and why?
The most enjoyable aspect of my line of work is the variety. I am involved in the commercial aspects of projects (legal, contractual and financial) but I am still very much involved in the technical side of things as many of the claim issues that I deal with are technical in nature. As a result, I still learn new things every day especially as I get involved in all aspects of a project. I also get to work on different types of civil engineering projects (tunnels, bridges, buildings).
What are your top tips for students aspiring to work in your profession?
My top tips are:
1. Take advantage of the opportunities that present themselves, learn new things and don't limit yourself.
2. If you have a chance to work abroad, do it! You will learn enormously from a technical perspective but also on human level as you will be exposed to different cultures and people.
3. Work on your interpersonal skills and your communication skills. This was one of the most important things we were taught at Surrey and it holds true to this day.
4. Finally, choose Surrey's Civil Engineering Department!