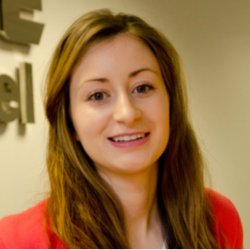 Sinead Ryan
"I instantly knew Surrey was the place for me. The facilities are excellent and there's a great sociable atmosphere."
Sinead, tell me a bit about your job, what does it involve?
As New Business Coordinator for a travel management company (TMC), my main responsibility is to manage the tender process. I'm involved throughout the new business process, from creating the proposal right through to implementation of the account. So far I've found it's really important to build a relationship with the client and understand their needs when bidding for their business. I also attend sales meetings with prospective clients, which has really helped build up my confidence. I started off in the company as New Business Support and was lucky enough to be offered the role as soon as I graduated.
Why did you choose to study at SHTM?
Having visited a few universities, I instantly knew Surrey was the place for me. The facilities are excellent and there's a great sociable atmosphere. I wanted to choose a university that would be recognised by employers for being the best for studying Tourism Management. Surrey has world-class academics, and SHTM is ranked number one in all the major league tables in the UK. I also wanted hands-on industry experience, so the Professional Training Year was a big selling point, too.
How was your experience there?
I absolutely loved my time at Surrey. Industry guest speakers were a regular part of the programme, and the lecturers were so knowledgeable in their specific areas. They were completely focused on helping us fulfill our potential. I really enjoyed the Tourist Behaviour, Marketing and HR modules.
What's your strongest memory of your time at SHTM?
The quality of the lectures and making lifelong friends!
What did you do for your Professional Training Year?
I worked at Hilton Hotels as Business Centre Coordinator. This involved ensuring all conferences and events ran smoothly and that delegates had a great experience while at the hotel. My tutor during my placement year was very supportive and always on hand if I needed advice. I feel the placement enabled me to put my developing knowledge and abilities into practice.
What's been the highlight of your career so far?
My recent promotion and graduating with a First Class Honours degree from SHTM, of course! I've also loved meeting so many successful individuals and companies in the travel industry, and being valued by my colleagues and senior management is so important to me.
Any advice for prospective students considering a career in your field?
Travel & Tourism is a great industry to work in. It's constantly changing and developing which makes it both exciting and challenging. You have to be passionate about the industry and absorb as much information from lecturers and employers as you can. You must be prepared to work hard – success will not come overnight and you'll get out what you put in!
Where do you hope to be in five years' time?
I hope to have a long and successful career in the travel industry!