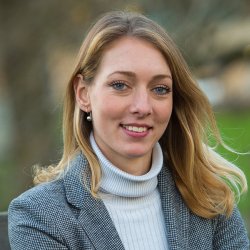 Sophia Fochler
"Through the experiences of mixing with such a spectrum of unique individuals at Surrey and immersing myself in the American culture for my placement, I have evolved a distinctive principled outlook and discovered I have a voice."
Course
Biomedical Science
Placement company
North Carolina State University
"I chose to peruse the University of Surrey as my top choice for study as I had a dear family friend, a previous student from decades ago, recommend it to me. This curiosity led me to investigate further into how Surrey life would pan out for me. The deciding factors in the end, were the promise of ample opportunity for Professional Training placements worldwide and Surrey's admirable position in the league tables.
Although I did not attend an official Open Day, I had visited the University campus with a friend of mine, local to the Surrey area.
Having been raised for 18 years in the rural setting of Cornwall, a green campus was of high importance to me. After visiting the beautifully maintained campus grounds and ponds on a hot summer's day, my decision was set and I could picture myself feeling very at home over 200 miles away from my roots. This was of course, the cherry on top, additional to the impeccable academic facilities. For me, there was no question about it.
For as long as I can remember, I have questioned everything. When the time finally came to decide upon my future career field, it seemed absolutely crystal clear to pursue a path into the area of study which bases its progression on principals of curiosity and knowledge - science. 
I found the broad course structure in the Biomedical Science programme particularly attractive, promising a solid foundation of scientific concepts along with integrating and relating this basis of knowledge onto the lab environment and Professional Training placement opportunities.
There is no doubt to me that my placement year working in a scientific research lab in North Carolina State University, USA, was my biggest joy of attending the University of Surrey. However, it must be noted that during semester times, my most satisfying moments were when I was able to walk straight out of a lecture room, having just learnt about a particular new topic, and walk straight into a lab environment to watch that knowledge unfold before my eyes.
I have been fortunate enough to get to know a number of caring, compassionate, professional and enthusiastic academic lecturers during my time at the University of Surrey. This is topped by immaculate facilities and modern, well-equipped laboratories.
I got allocated to Hazel Farm campus in first year, where I met a set of incredible individuals in my accommodation block, all of which I consider as family to this day. The external campus itself was peaceful and close to the countryside.
From day one of university, I dedicated myself to saying yes to any opportunities thrown at me, and from this, I have been involved in the University of Surrey Sailing Club for two years, the GGA German Language Course Level 4, LACES language sharing scheme and the Buddy Scheme. Asides from this, I attended the ample fitness courses offered to members of the Surrey Sports Park including climbing and fencing, all of which provided essential occasions to connect with people outside of my course area.
I cannot fault any aspect of living in Surrey as an area. During my three years here, I made full use of the renowned facilities at the Surrey Sports Park and involved myself fully in the Guildford community, working in a number of bars and clubs in my first two years of university. Alongside these assets of Guildford as a town, the University itself has a picturesque campus garden with ponds and wildlife which make me feel very at home.
Additionally the Library facilities are, in my opinion, unbeatable, offering free sessions on topics like essay writing and providing a variety of silent rooms and group study areas to suit everyone's needs.
I had the unbeatable opportunity of undergoing a Professional Training placement in a world renowned research facility in Behavioural Genetics at North Carolina State University, USA. 
My work on placement involved using cutting-edge gene technology and behavioural assays, specific for alcohol consumption in Drosophila melanogaster, to quantify the magnitude genes play in the complex disease of excessive alcohol consumption. The highlights in the end were watching my year's efforts and enthusiasm get written up and published in scientific journals. 
I would absolutely recommend my placement opportunity at North Carolina State University to anyone who wishes to pursue a career in academic research. In this placement I was treated as a valued academic researcher and given opportunities that many other undergraduate students wouldn't get, such as attending conferences and leading lab meetings.
My greatest achievements have been threefold so far:
1) Having my name published in two scientific journals from my placement work projects in the field of Behavioural Genetics.
2) The poster presenting my placement work at The Allied Genetics Conference 2016 in Orlando, Florida USA.
3) Becoming an integral part of the University of Surrey Sailing Club committee and sailing the Adriatic Sea off the coast of Croatia. 
From day one, when I got dropped off on the Surrey campus by my parents, to today, the changes I feel in my mind are indescribable. Through the experiences of mixing with such a spectrum of unique individuals at Surrey and immersing myself in the American culture for my placement, I have evolved a distinctive principled outlook and discovered I have a voice."
Discover more about our biosciences and medicine programmes, including our BSc Biomedical Science.