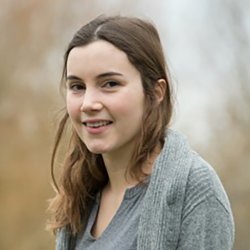 Sophie Hall
"My greatest achievement of the last year was moving to the United Kingdom and settling in at the University and in Guildford."
Course
Mechanical Engineering
"I chose to study Medical Engineering as it is a subject which will hopefully enable me to have an impact on people's lives in the future. With technical developments many diseases can be cured or we can at least improve the quality of life of those with these illnesses. In my future career I would like to engage in this development.
I enjoy the practical job applications of my degree the most. In our first semester these have included Workshop sessions in which we worked on the lathes, drilling and milling machines.
And I enjoyed the CAD Tutorial in the computer labs. I have the feeling that a lot of the things we do are definitely relevant for my future career and lecturers try to draw these connections for students frequently. This helps keep my own ambitions quite high.
The University of Surrey is now definitely my first choice as a University because it gives students the possibility to receive great teaching and to keep pursuing extracurricular hobbies in their free time. All the teaching staff encourage students to get involved in different societies or to try something new.
As a person I have always been interested in many things. I enjoy learning but I also enjoy doing sports, practicing music and spending time with my friends. I am a singer in the Jazz orchestra and I am a member of the University of Surrey Water Polo Team. I also dance with the Ballroom and Latin Society and all these societies have contributed a lot to my University experience.
I also chose Surrey due to the high percentage of international students studying here. From my point of view this mix of nationalities from all over the world makes university life particularly interesting. The league table results were also important to me as it made me sure that the University of Surrey provided a good standard of teaching."
Discover more about our mechanical engineering programmes.