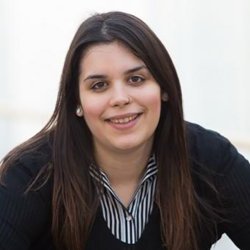 Stella Totti
"I've expanded my knowledge in different scientific fields, become familiar with advanced laboratory techniques and cutting-edge equipment handling, and collaborated with many experts."
"I applied for this PhD position at Surrey the moment I saw it advertised. I realised I wanted to work in the field of bioengineering during my masters studies, and cancer tissue engineering applies the principles of engineering and life sciences to one of the main problems society faces today.
Through my PhD, I can now contribute to solving this challenge.
My PhD research focuses on the development of a 3D 'in vitro' platform for pancreatic cancer studies and treatment screening. By studying cancer progression in a more realistic microenvironment than using conventional 2D methods, we can gain very useful information about the cancer cells' behaviour and evolution, and their response to treatments like irradiation and chemotherapy.
This is part of the pioneering work being led by Dr Eirini Velliou and her Bioprocess and Biochemical Engineering Group (BioProChem), of which I am a member.
I must admit that on the first day of my PhD I didn't know what to expect from this experience, but my decision to conduct my postgraduate studies at Surrey has proved to be the right one. The Department of Chemical and Process Engineering is highly ranked and has a good reputation for the quality of its staff and research. It is a growing department with a combination of highly experienced academics and young researchers who collaborate effectively in a friendly working environment.
During my PhD, I've expanded my knowledge in different scientific fields, become familiar with advanced laboratory techniques and cutting-edge equipment handling, and collaborated with many experts.
I've already published some of my research, and aim to publish additional papers before I finish my PhD.
I've also had the opportunity to present my work at a number of European conferences, which was a great chance to meet and network with researchers with similar scientific interests.
Now in the final year of my PhD, a chapter of my life is closing and a new one is opening. When I finish my studies I am eager to work as a researcher either in academia or in industry. I have been happy with the facilities and support Surrey offers, as well as the working environment and the people I've had the chance to work with. Studying here has been a very good experience."
Discover more about our chemical and process engineering programmes, including our PhD Chemical and Process Engineering.