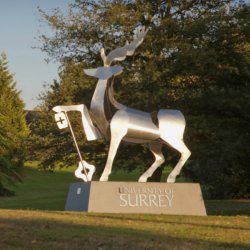 Stephen Brook
Stephen Brook, Head of Account Management, Diversity Travel
What attracted you to choose the University of Surrey and to study the MBA here?
I attended an open day in the spring of 2012, and from the first conversation with the MBA Director I knew I had found the course I wanted to attend. The enthusiasm that day was consistently shown in the quality of the staff throughout the MBA, and I never ceased to be amazed by the gripping nature of each and every lecture in each and every subject area. Even subjects I knew might have particularly difficult material for non-specialists to engage with were enthralling from first to last. The only way to achieve that is with teachers of excellence, and that is why I had to attend the Surrey MBA.
What were the best things about your course?
Aside from the demonstrable teaching quality, I was particularly blessed to work with an incredible student cohort. My compatriots on the course were gifted, capable, challenging, driven and to a fault pushed one another to achieve the best possible results in every area. This is reflected in the results of the group as a whole, and each and every one of our graduates thoroughly deserve the qualification. That Surrey could attract such a group to study with really ratified my choice.
How did you change as a person during your time as an MBA student?
A bit of a cliché, but the MBA was literally life-changing for me. To achieve this qualification is an achievement. To achieve it at a school of Surrey's quality and standards is a triumph. To finish with a distinction is a genuine honour.
I started this qualification wondering whether I would finish, and I have gained immeasurable confidence in myself and my abilities as a result of it. One of the key teachings of the MBA is that if you are willing to put the work it to get to your goal, you can genuinely achieve anything you set your mind to.
This course really tests not only your capabilities, but also your will to achieve as there are so many ways to approach each and every challenge and you have to be at your best to get the best results. The timelines are intense, more intense than I had previously experienced in any work setting, and the amount of work and study is almost revelatory. Now that I have finished is I feel I have so much free time!
What impact did the Surrey MBA have upon your career?
The MBA has enhanced my career in two key ways. In an immediate sense, I secured a promotion at the tail end of my time at Surrey. Looking further afield, my company recognises the value of the MBA as a preparation ground for future leaders and I am confident that the qualification will enable me to secure senior level positions within the company in the future.
There are few MBA's actively working within the travel industry, something I am determined to help change with the application of my learnings from the course to help generate improvements within my company and hopefully the wider industry.
 
What are your thoughts on the importance of networking? Is a strong personal network important in business?
Networking is business critical. On your own you can achieve great things, but with the right people you can achieve things that you thought were impossible. On a personal level a wide-reaching network can support your desire to work for particular companies through personal recommendations and referrals. On a more ongoing practical note a wide-reaching network can generate many opportunities for cross-collaboration.
As a rule of thumb be positive, be genuine and be honest when reaching out to connect with people through any medium and you will largely be successful in developing strong and collaborative relationships that will serve you for many years.
What one piece of advice would you give to people considering the Surrey MBA?
Stop considering it and go for it! It will be the best decision you will ever make.
What is your strongest or happiest memory of your time at Surrey?
My happiest and strongest memory at Surrey is working on the action consultancy project for a charity. My team created a bespoke marketing and public relations campaign strategy for a global campaign. A hugely worthwhile cause, the safety of children, and our work was directly supporting the charity to keep children safe.
The charity did a supreme job in communicating a very professional video they had created as the core message of the campaign to eventually reach over 300m people, supported in part by our project.
Find out more about the Surrey MBA.